Detox Water is a naturally flavored water mixed with sliced oranges, citrus filled lemons and limes, fresh strawberries and garnished with mint making this an irresistible water. Only 5 Minutes to make!
Clean eating can be made simple! Try this Vegetable Detox Soup, Skin Glowing Raspberry Mango Smoothie or The Best Acai Bowls (Three Ways!) for healthy recipes that are full of flavor.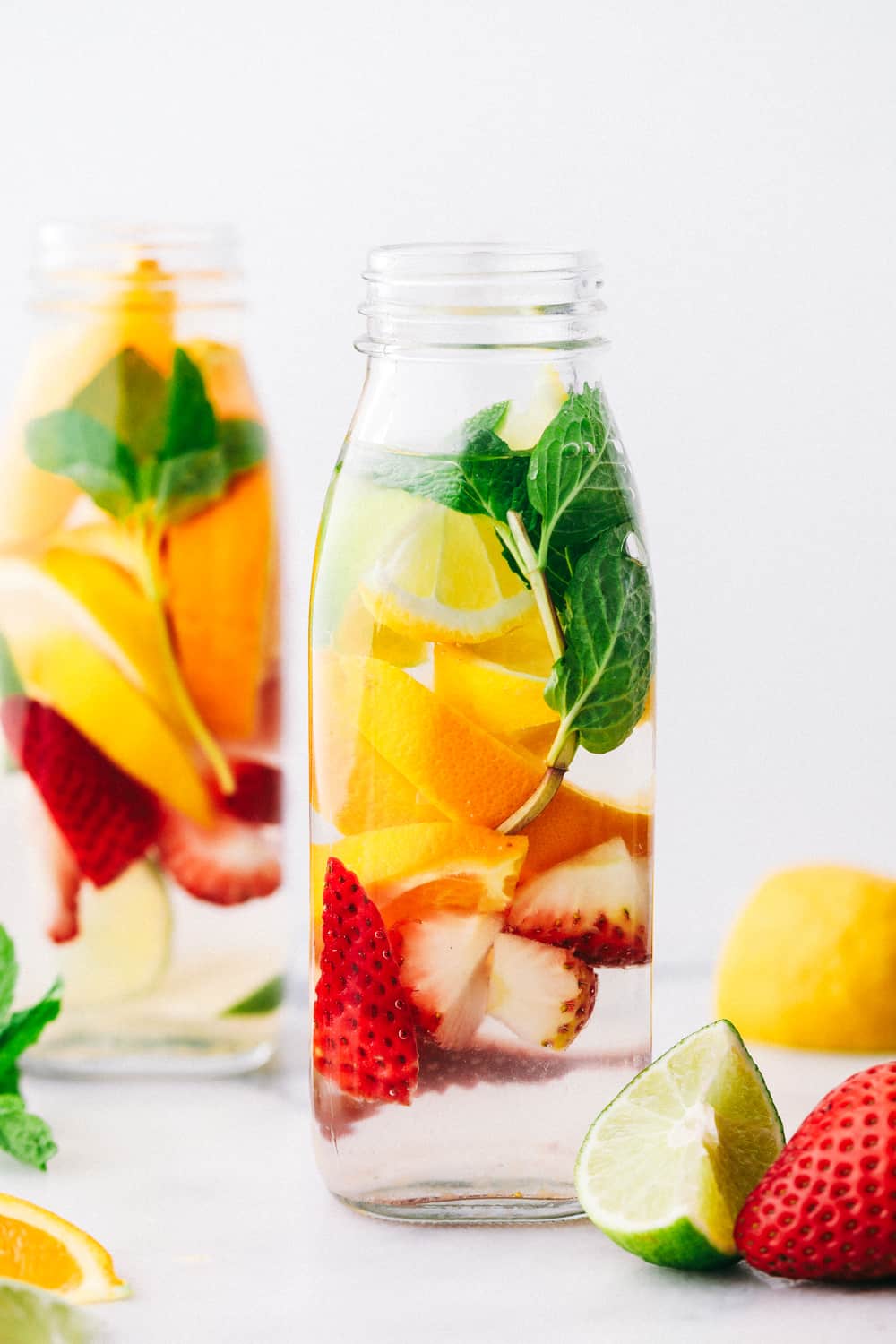 Detox Water
This irresistible detox water is just what you need to stay healthy and hydrated. With its sweet and refreshing taste it is hard to stop sipping on all day long. There are several health benefits to this detox water and the main one is cleansing the body. This will help eliminate the bad and help boost the good in our bodies. This tasty fruit filled detox water is just what is needed to get on the right track and stay healthy.
Water is the number one resource a body needs. With the help of this detox water, watch and see how the body can change for the better. Water helps with boosting metabolism, aids in digestions and will also fill and fuel the body to help you feel full. All these benefits are a plus and great for the inner body. Watch how skin glows and how it looks the best with this detox water.
Tasty fruit mixed with chilled water is the perfect combination to enjoy and quench your thirst all day long. Soon you will be craving this delicious fresh and fruit detox water combination. I must say, this detox water is not a magic weight loss pill or a diet to only be on. Working hard physically, mentally and even socially is the best benefit to a happy, healthy balanced life. Water is to help aid in drinking more water that in turn can help reduce weight gradually and slowly the healthy way.
With the help of this flavorful detox water, results will be shown through a healthy gut as well as beautiful glowing skin and hair. This detox water has so many great benefits to it plus the flavor taste great while staying healthy and getting into shape.
What is Detox Water?
Detox water is known to help remove toxins, aid in weight loss and boost the immune system. Natural vitamins, minerals and antioxidants are found in fruit that create this perfect combination. All these things are huge health benefits that will slowly increase the bodies way of life. Water is the best source of nutrition for the body. Drinking more water is only benefiting and rewarding. Skin, hair and internal organs crave water and need it to survive. This detox water only compliments those benefits as well as taste amazing while doing it!
Detox Water Ingredients:
Most all of the ingredients in this detox water contain vitamin C and other health benefits that make these detox so strong and powerful. Seeing results that you want are key and using this detox water can help clean your system on the inside and out.
Each of these ingredients are a benefit to the body and digestive track. Combined there are so many health benefits that all work together creating a flavorful and healthy water for your body.
Oranges: Contain Vitamin C that aid in growth, development and repair of all body tissues.
Limes: These limes contain a citrus juice that helps with digestion and relives bloating on the belly.
Lemons: Aid in weight loss and reduce anemia and other digestive enzymes.
Strawberries: Helps with heart health and blood sugar control in the body.
Mint for Garnish: Mint is known to help with digestion and is a belly enhancing garnish that improves the metabolism.
Cold Water: This is the most important part of the detox water. It is healthy and the best thing for our bodies.
How to make Detox Water:
It is a simple combination that works together so well. Slice and cut up all the fruits leaving the skin or peeling on. Place all the ingredients into a pitcher or large container. Fill the pitcher with filtered, cold water. It is best to enjoy this water at least an hour later from making it. This will allow the fruit and mint garnish to absorb the water and fill the cold water with more flavoring.
Add all ingredients together: In a large pitcher add the oranges, limes, lemons, strawberries, and mint.

Fill the pitcher with the water.
Steep the water: Let sit in the refrigerator 1 hour or overnight to let it steep and flavors blend.
The Recipe Critic Pro Tip:
Once the fresh fruit ingredients are in the pitcher filled with water, take a fork or long tool to poke at the fruit helping the fruit to release the juices in the water.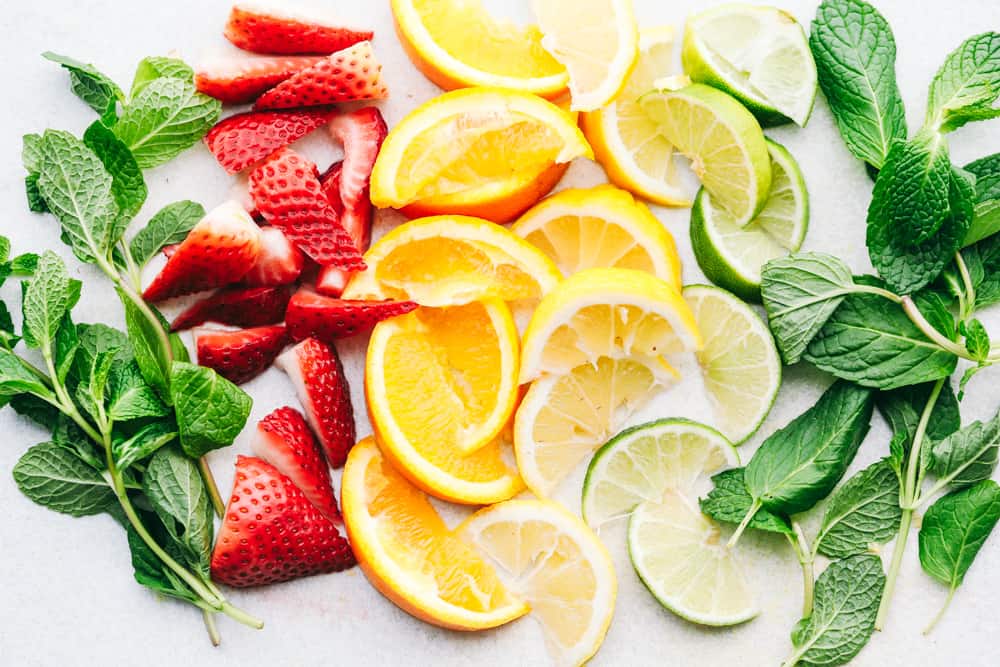 Variations of Detox Water:
Berries are full of vitamins, dietary fibers and healthy benefits. These benefits help maintain a healthy weight, reduce the risk of diabetes, decreases the chances of heart disease and can lower the chances of getting certain types of cancers. All in all, drinking water is a lifestyle choice that benefits in several different ways. Creating a water to help aid in all these benefits is simple with minimum amount of ingredients. Try substituting or adding in more fruits and/or herbs to the water for even more flavorful ways of drinking water.
Blueberries
Raspberries
Pineapple
Mango
Cucumbers
Ginger
Lavender
FAQ's on Detox Water:
Frequently asked question about detox water is important to know the benefits as well as more information regarding detox water. Detox water is not a diet or a quick fix to solving and eliminating any disease or health issue someone may have. Detox water in general is a flavorful water that is healthy to drink and will help the human body from the inside, out. Enjoy this flavorful water each day, one glass at a time!
Does detox water work? Yes! This water is healthy and will aid in eliminating any bad toxins in the body. In general, water is healthy for you and known to have several benefits by itself. This water is only a drink and added exercise will be required if looking to lose weight with it.
How long does it take to infuse water? For a stronger, more flavorful water, it is best to refrigerate the detox water at least an hour to overnight. This will help bring out fresh flavors in the water and taste amazing!
How long does detox water last? Water in general lasts forever, however, with the fruit infused I recommend storing the detox water in the refrigerator for 3 to 5 days. Once the fruit and herbs lose their flavoring the water is no longer fresh and delicious.
Can you eat the fruit in detox water? Absolutely! As the fruit is soaking in the water, it slowly is losing its flavor but it will still have a fruit filled texture and flavor when eating it.
What do you make detox water in? A pitcher is best or something that is large enough to hold the amount of water you desire. This detox water recipe is perfect for doubling or even tripling for a large party. If this water is for home, even cutting it in half will work as well.
How much water should you drink based on weight? It is best to drink an ounce of water per pound you weigh for each day or in general it is best to drink eight, eight ounce glasses of water each day.
More Healthy Recipes: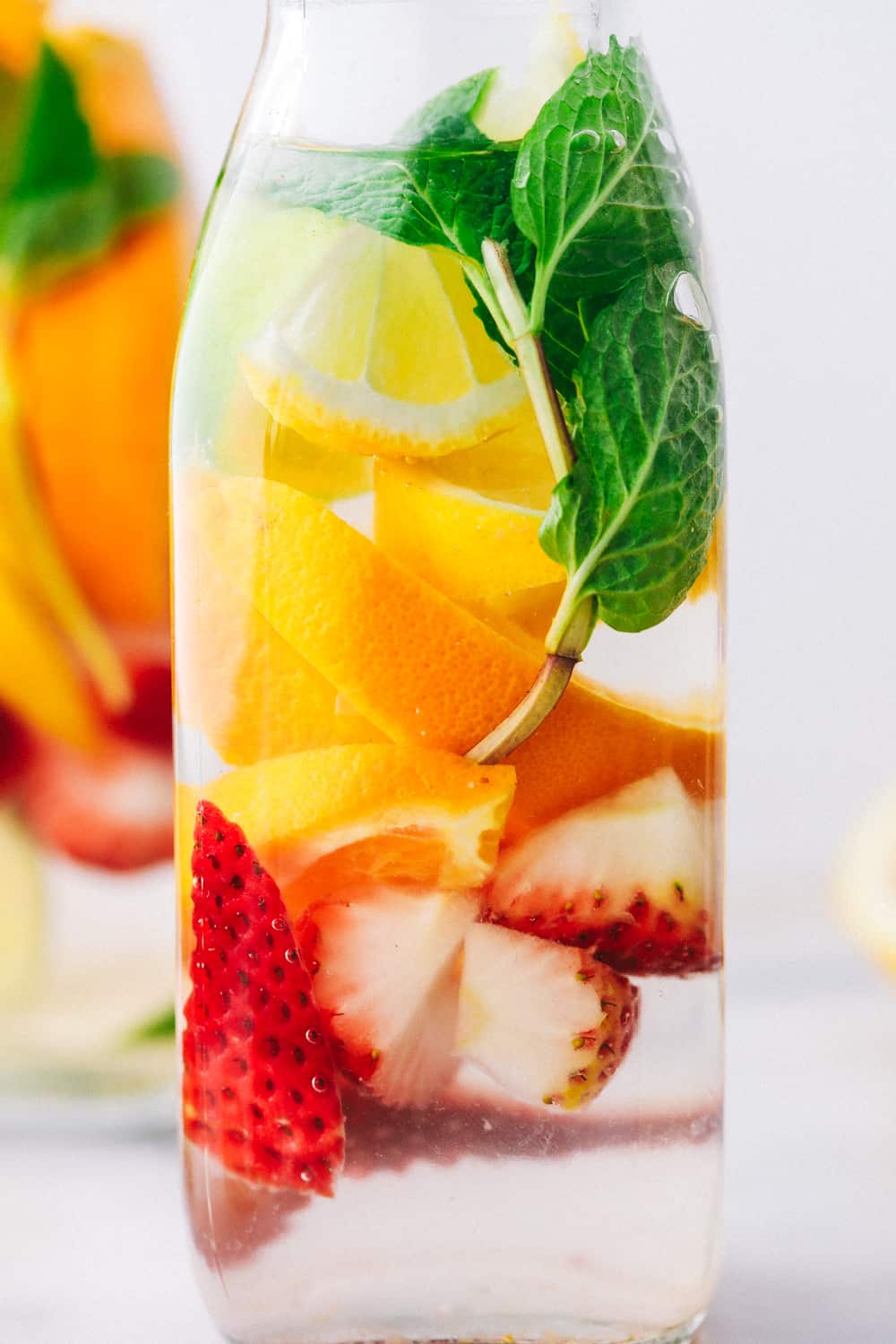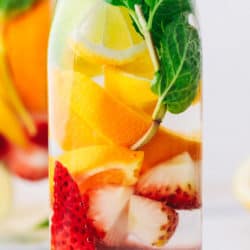 Five Minute Detox Water
Detox Water is a naturally flavored water mixed with sliced oranges, citrus filled lemons and limes, fresh strawberries and garnished with mint making this an irresistible water. Only 5 Minutes to make!
Servings
16
8 Ounce Glasses of Detox Water
Ingredients
2

oranges

sliced

2

limes

sliced

2

lemons

sliced

1/2

pound

strawberries

sliced

mint for garnish

1

gallon

cold water
Instructions
In a large pitcher add the oranges, limes, lemons, strawberries, and mint. Fill the pitcher with the water.

Let sit in the refrigerator 1 hour or overnight to let it steep and flavors blend.
Nutrition
Calories:
19
kcal
|
Carbohydrates:
5
g
|
Protein:
1
g
|
Fat:
1
g
|
Saturated Fat:
1
g
|
Sodium:
1
mg
|
Potassium:
78
mg
|
Fiber:
1
g
|
Sugar:
3
g
|
Vitamin A:
41
IU
|
Vitamin C:
27
mg
|
Calcium:
15
mg
|
Iron:
1
mg