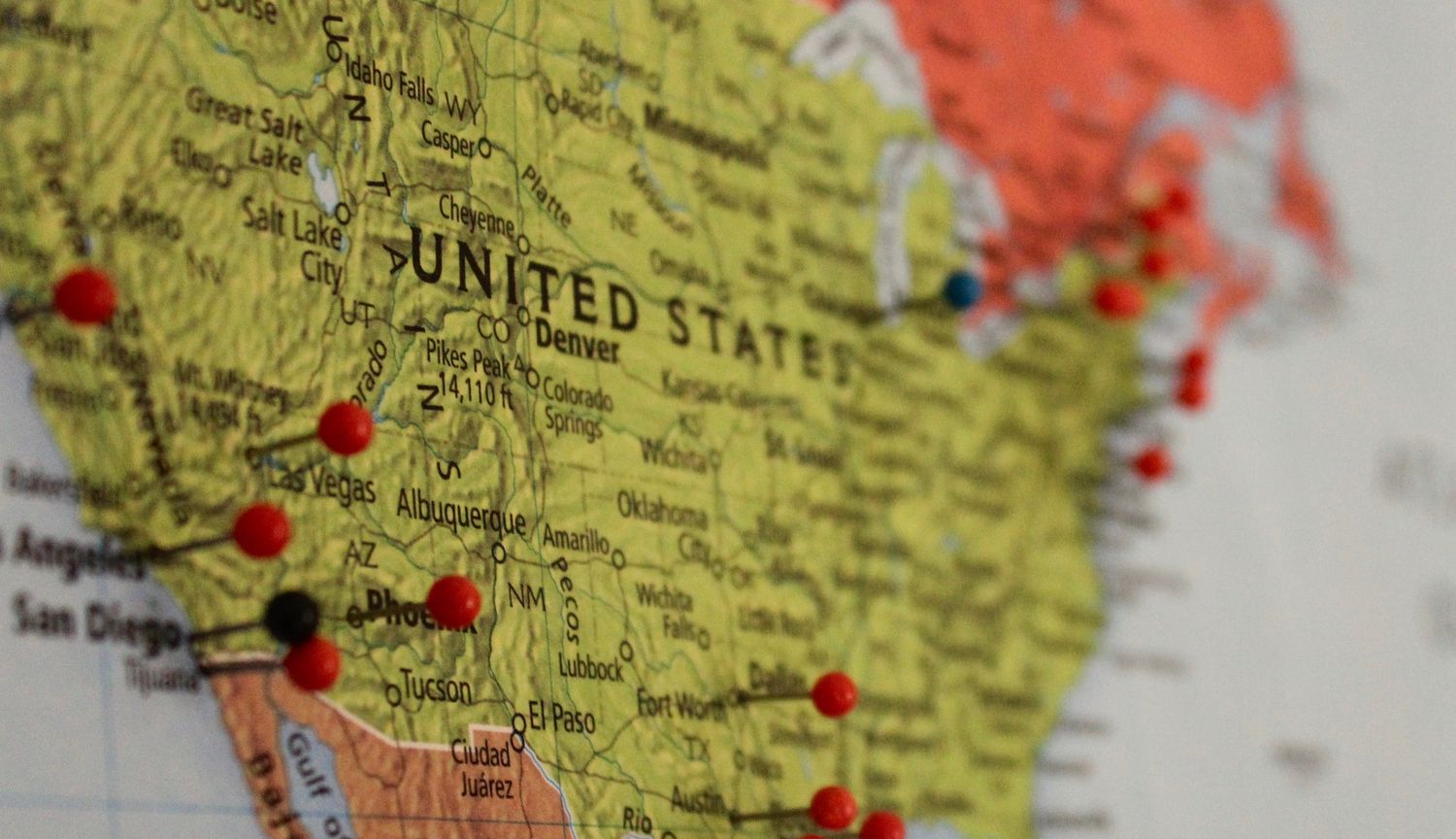 We don't need to remind you that the U.S. is a really big country. Visiting all 50 states can seem daunting. (Morgan Lane via Unsplash/)
When I was a teenager, I stumbled across a Xerox copy of a blank U.S. map. There, my parents had written down the years I first visited each state, and I realized I was well on my way to spending time in all 50 of them.
I visited the remaining 10 before I turned 22, checking that item off my bucket list, and now, I'm reliving the experience as my husband and toddler cross states off their lists. They're at 35 and 15, respectively.
What does it mean to "visit" all 50 states?
Does seeing one of these go by while you're driving count as visiting? We don't know. Does it? (Mary Kearl/)
That's up to you to decide, but you'll definitely run into a lot of people with lots of opinions about it. The debate always centers around questions such as whether or not it counts if you don't spend the night, if you only drive through a state, or if you just have a long layover.
Googling the topic will lead you down a deep rabbit hole, but my family's rule of thumb has always been simple: Visiting a state means at least getting out of the car (or leaving the airport) and buying something, even if it's just a snack from a gas station. Sure, that's a pretty low bar—but it's the one I grew up with and I've stuck to.
I later discovered there's a membership organization called the All 50 Club, which helps travelers achieve and celebrate the goal of visiting all 50 states. They have their own official definition of what it means to actually visit a state, and as it turns out, my parents' rule is quite close to that.
According to the All 50 Club, you've only visited a state after having "set foot on the ground of that state and breathed the air." They're also adamant that neither layovers nor flying over a state counts as visiting.
Depending on how hard you want to make things for yourself, you can either stick to this definition (or any other you find out there), or come up with your own. As long as a rule makes sense to you and whoever is accompanying you on your adventure, it works.
Planning and budgeting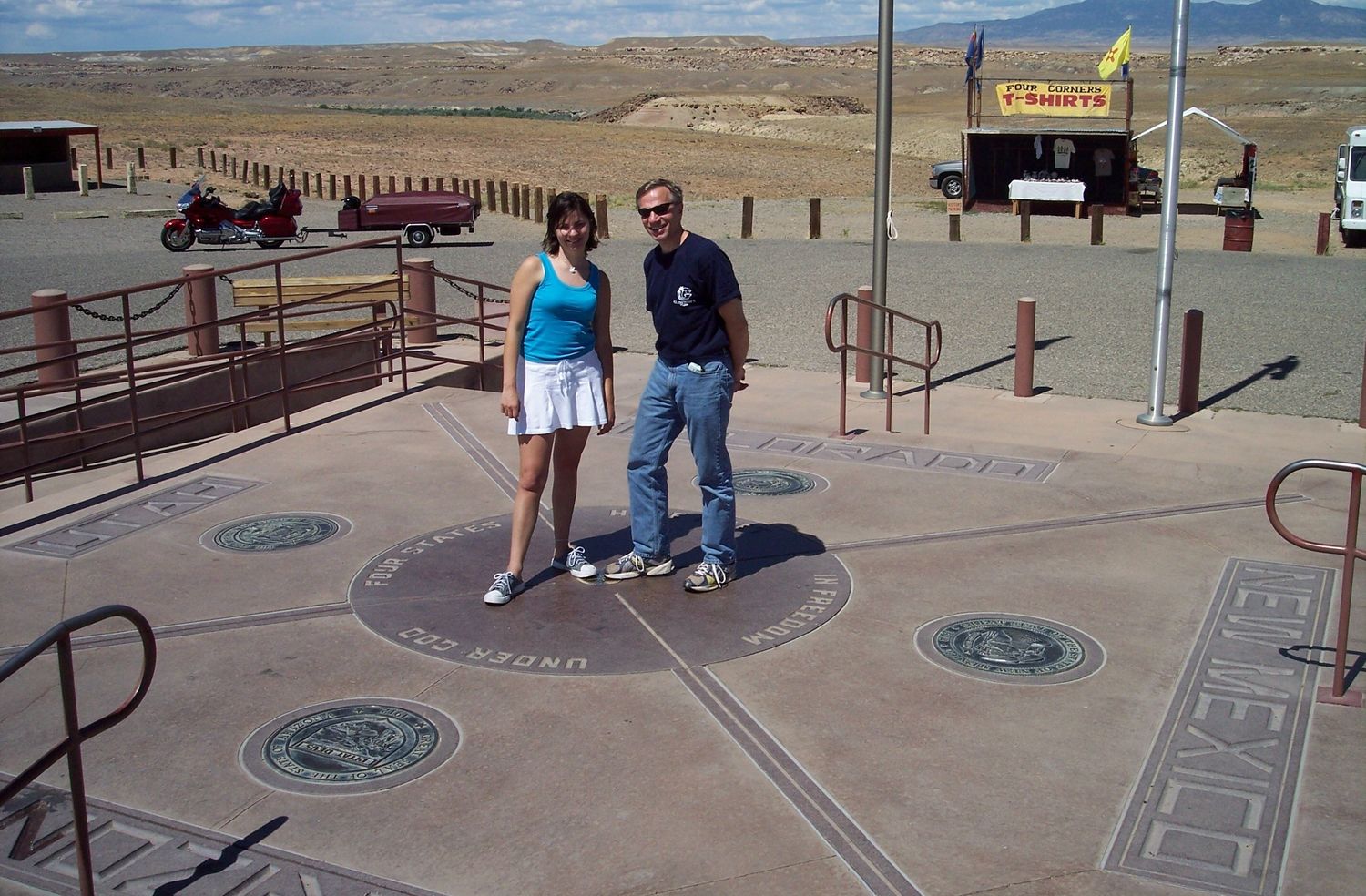 Outsmart this enormous piece of land by visiting the Four Corners Monument. There, you'll be able to scratch four states off your list in one fell swoop.
(Mary Kearl/)
For $5 in the off-season and $10 during peak season, you can pay to visit (or stand in four states at once) at the Four Corners Monument.
So how much does it cost to visit all 50 states? That will depend on how many you can fit into one trip, your method of transportation, and whether you opt for budget, mid-range, or luxury accommodations and travel options.
According to Budget Your Trip, the average budget traveler spends $82 per day in the U.S., not including airfare. This jumps up quite considerably to $224 for mid-range, and $663 for luxury travelers.
In 2016, my husband and I spent slightly less than $5,000 on a 44-day road-trip across the U.S. by bike, where he crossed seven new-to-him states off his list. This is well around the average 30-day budget U.S. trip for a couple, according to Budget Your Trip. If you're looking to drive, Investopedia says you can go from New York City to Los Angeles in seven days for about $1,100. That's not only cheaper, but also way faster. (Just remember to buy a piece of gum or something every time you hit a gas station in a new state.)
For those living in the contiguous U.S., the big-ticket items will be Alaska and Hawaii, so you'll probably have to plan dedicated trips to both these destinations. A 7-day Alaska vacation can cost around $3,000 per person, while a 7-day Hawaiian vacation costs about $5,300 for two. To check these items off your list, putting some money on the side and planning ahead is the best alternative.
Keep track and exercise your bragging rights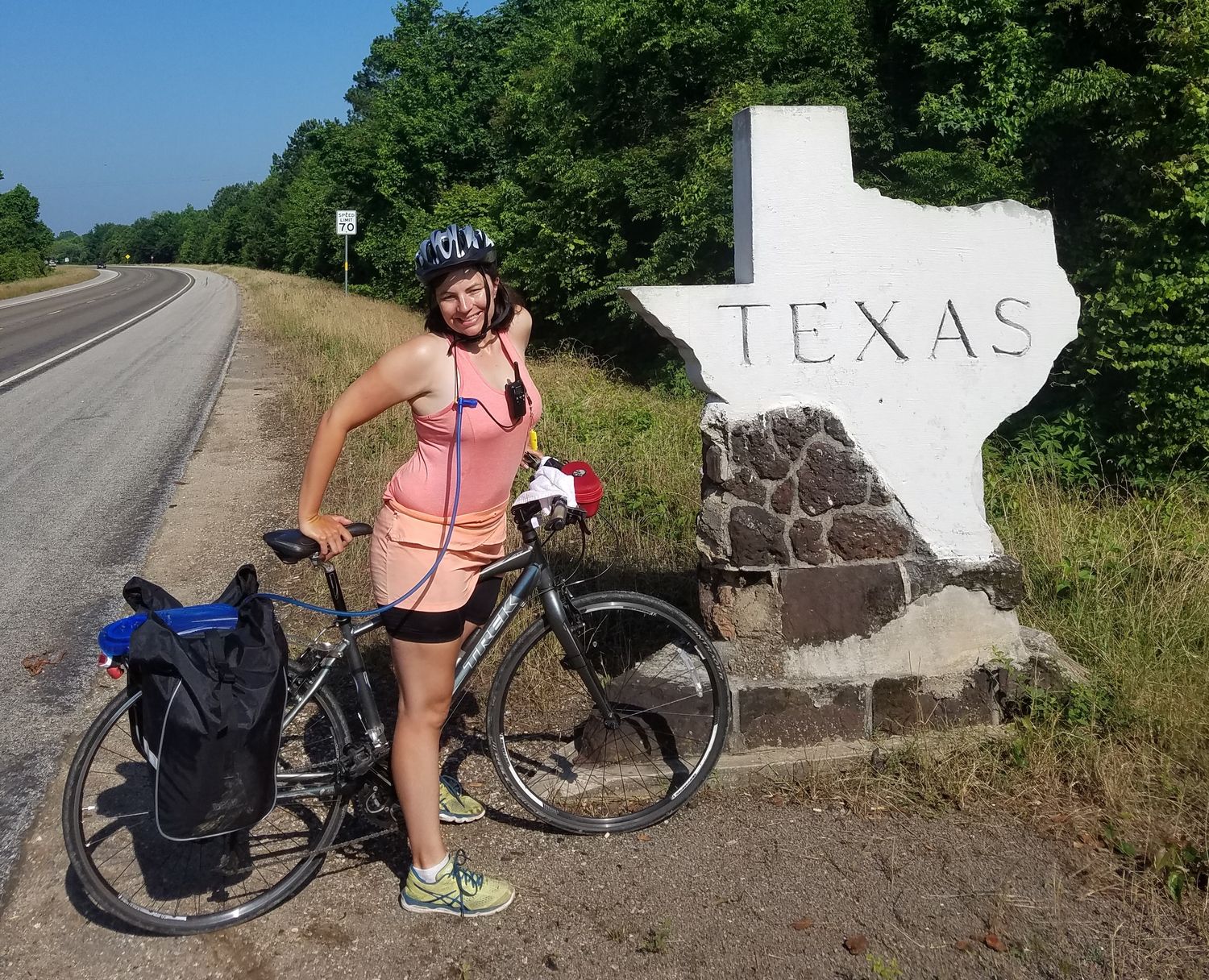 Visiting all 50 states is all about bragging. Take pictures, buy magnets, keep souvenirs, and do everything you can to tell the world you've been there. (Mary Kearl/)
Bullet holes are apparently commonly found among state border-crossing signs
While my parents' map was a great analog method of keeping track of our state visits, there are now many other options that range from physical to digital. My sister gifted us with a scratch-off state map for our baby, but we use Google Docs for logging states on the go. Doing so gives us both (and eventually our little one) editing privileges.
There are other more specialized apps, like Polarsteps, that help you take a closer look at the exact trajectory of your trips. Polarsteps is good for tracking any trip on your mobile device, but if you use it for keeping tabs on the states you've visited, you'll know exactly which ones you set foot in during a particular trip. The All 50 State Club also recommends their own Travel Goal Getter app, plus other physical options for keeping track.
For even more bragging rights, you can pick up a souvenir at each location. I collect bells, my husband collects patches, and our baby gets magnets. We also try, where possible, to take a picture in front of the state sign when crossing the border.
Embark on further adventure
If you've already visited all 50 states or the idea sounds too easy or bland, there's more you can do. If you're feeling creative and ambitious, here are more elaborate options you can challenge yourself with:
<a href="https://www.travelchannel.com/interests/national-parks/photos/50-states-of-national-parks-one-for-each-state-dc-too">Visiting a national park in every state.</a>
Running a marathon in every state—there's a <a href="http://www.50statesmarathonclub.com/" target=_blank>club</a> with <a href="http://www.50statesmarathonclub.com/rules.html" target=_blank>specific guidelines</a> for this one. It includes almost 5,000 members who've run more than 318,000 marathons.
<a href="https://www.guinnessworldrecords.com/amp/news/2017/6/monday-motivation-how-danell-lynn-conquered-all-50-states-on-the-back-of-a-motor-476328?fb_comment_id=1646983381979739_1647250598619684″ target=_blank>Visiting all 50 by motorcycle</a>, like Guinness World Record holder Danell Lynn.
Paddling in all 50, like Eric Straw did in his <a href="https://www.americanrivers.org/2017/10/man-canoe-fifty-states/" target=_blank>Canoe 50 Campaign.</a>
<a href="https://www.tampabay.com/news/humaninterest/a-bike-tour-of-all-50-states-retired-teacher-71-did-just-that/2189420/" target=_blank>Biking in all 50</a>, like 71-year-old retired school teacher Dianne Franz.
Doing a <a href="https://jlbdev.com/allfifty/how-to-visit-all-50/speed-run/" target=_blank>speed tour of all 50</a>. These are dubbed "cannonball runs" and have been accomplished by a select few All 50 Club members. They've visited all states in as little as 6 days, 17 hours, and 31 minutes.
Accomplishing the task with babies. Two of the youngest known travelers to see (or nap through?) all 50 states did so at <a href="https://www.thegazette.com/50-states-in-42-days-baby-liberty-becomes-the-youngest-to-travel-the-us-20181207?template=amphtml" target=_blank>42 days old</a> and <a href="https://www.instagram.com/harper.yeats/" target=_blank>six months old</a>.