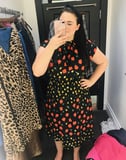 I walked into Banana Republic to pick up one thing – it was supposed to be a quick trip, I swear! But, my shopping editor senses went off as soon as I walked into the store. From printed dresses to fuzzy sweaters, there were so many gorgeous new pieces that immediately impressed me. Obviously, I had to try a bunch of stuff on. How could I resist?
Before I knew it, I had filled up a fitting room with almost every piece in the store. Shout-out to the San Francisco staff, by the way – they were so nice and accommodating without any clue that I'm a shopping editor. I have always found that it's much easier to see if I like clothing when I see real women wearing it, so I braved the fitting room and took tons of photos for you to check out. That way you can see how these designs look IRL. For reference, I'm wearing a size 12 or large in all of the items. Hopefully shopping just got a whole lot easier for you.
Ahead, take a look at my favorite pieces I put on and would totally wear – plus, find out which look I ended up buying! Bonus points: most of these clothes are on sale, so you'll be getting major deals. Follow along with me!