This is one for those who like a bit of old-fashioned lore mixed in with an otherwise typical modern Japanese equipment story.
It's a well-established practice that each JDM brand has selling points around attention to detail, crazy tight tolerances, and use of higher-quality materials; all of which serve to produce equipment which is, according to JDM loyalists, a step above what's available from the major retail brands in North America.
With that, most Japanese brand stories include some historical underpinnings which connect the equipment to a cultural past (e.g., Samurai sword making) which may or may not have anything to do with how the equipment is produced today. A bit of mythology makes for a better story, but in the case of Fujimoto, there are more dots to rightfully connect and evidence which seems to suggest the small operation based in Ichikawa may be more authentically JDM than its better-known counterparts.
And so, the tale of the Fujimoto family and its homespun forged irons and wedges is engaging on multiple levels as there's enough mystery to inspire intrigue, while not overshadowing the fact that it makes some wickedly good forged irons and wedges.
ONCE UPON A TIME
The history of Fujimoto Gikoh begins with a simple, yet apt analogy – a tree with three branches. The three boys who would eventually become the patriarchs of JDM equipment enterprises Kyoei, Miura, and Fujimoto not only grew up in the same small area of western Japan (Ichikawa) – they're blood-related. The exact lineage isn't entirely clear, but while they are at least a step removed from siblings, some level of close relation makes sense. Ichikawa is roughly 350 miles west of Tokyo and is typified by a small population with several generations continuing to occupy approximately the same geographic area as predecessors. The familial connection isn't essential to establish credibility, but because there's an element of truth it, it's both novel and interesting for those who fancy themselves experts on all things JDM.
As a company, the history of Fujimoto Ginkoh dates to the early 1960s when Japan was working to recover from WWII. During the war period, gifted blacksmiths – technically swordsmiths – were directed by the government to focus their skills on making weapons for the war effort. Making anything else – namely forged golf equipment – was banned by the Japanese government. Katanas and other swords held value as sacred art treasures for the Japanese, and in the secondary collectible market, which still exists to some degree today, a sword's value depended largely upon the artisan of record. Though rare, some blades reached into the mid-six figures at auction with entire collections selling for several million dollars.
After the war ended, some elements of western influence remained and Monobu Fujimoto took note of other Ichikawa blacksmiths discussing making forged irons. Minobu knew a lot about metal, but not much about golf clubs. Confident all he needed was some tutelage, he approached Mr. Morita, who is considered a founding father of golf club manufacturing in Japan. Working under Morita San, Fujimoto learned the art of "Hizukuri" a traditional forging method derived from sword and knife making.
The method was sound, but Minobu quickly experienced the deficiencies of small hydraulic hammers as the small town of Ichikawa had little need for high-powered forging machines. The result was iron heads which took several days to shape by hand, and because the original iron billets didn't have uniform characteristics, the feel of each iron could vary significantly from one iron to the next.
This problem inspired Minobu to explore different heating, folding, and forging methods. Over time, he'd assemble prototypes and then give them to trusted local golfers who would provide him feedback and thus started a cyclical process of refinement. Minobu and the player would go back and forth until the player was completely satisfied.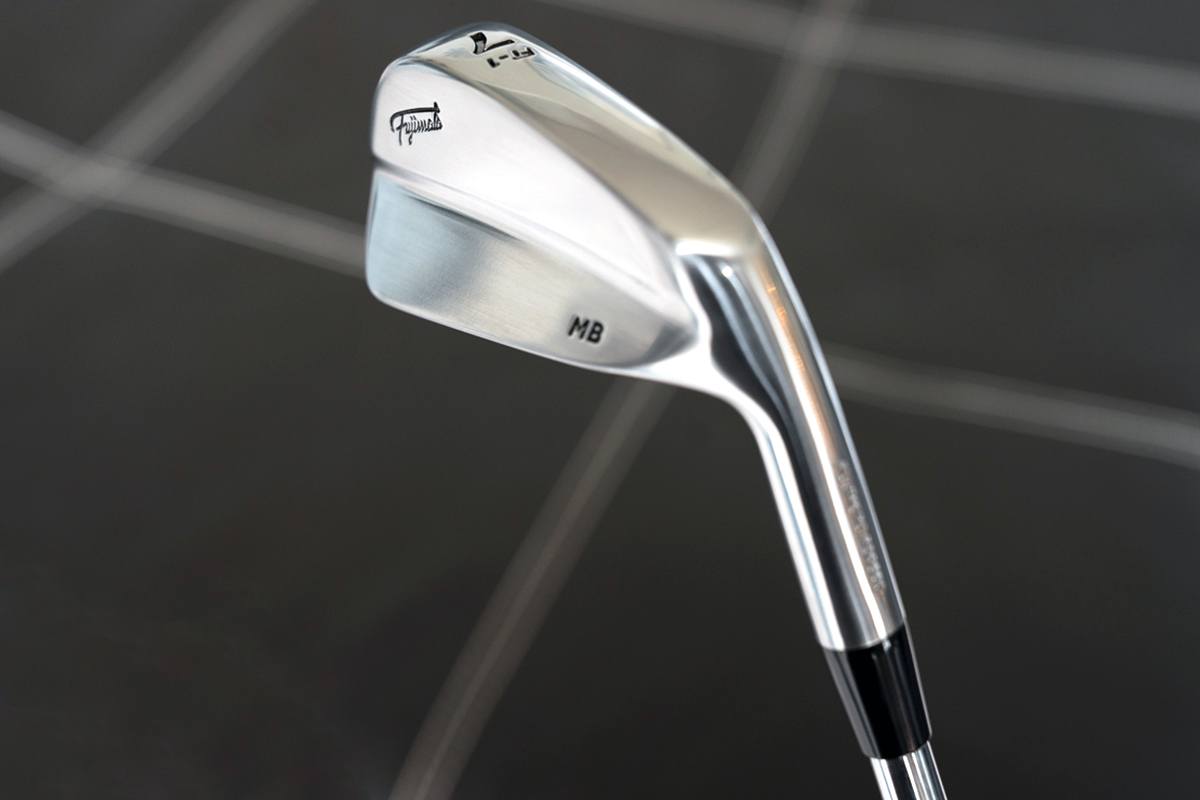 Eventually, word spread of Fujimoto's forging prowess, and it wasn't long before OEMs came calling to enlist his services. Long story short, Fujimoto would spend the next several decades as an unheralded figure forging irons and wedges for OEMs like PRGR and Piretti (as well as smaller, very niche brands such as Docus and Razzle Dazzle amongst others). Though the work provided consistent revenue, the thought of designing and coming to market with a private label line would allow Fujimoto to showcase his design, forging, and finishing capabilities.
In 2014, Fujimoto released the Believer and Adject forged irons which were typically ornate – as is often the calling card for bespoke, handcrafted Japanese irons. The aesthetics sit in contrast to what many North American buyers prefer. The irons and wedges in the new FT (Fujimoto Tour) line are much cleaner, with crisp lines, and minimal stampings.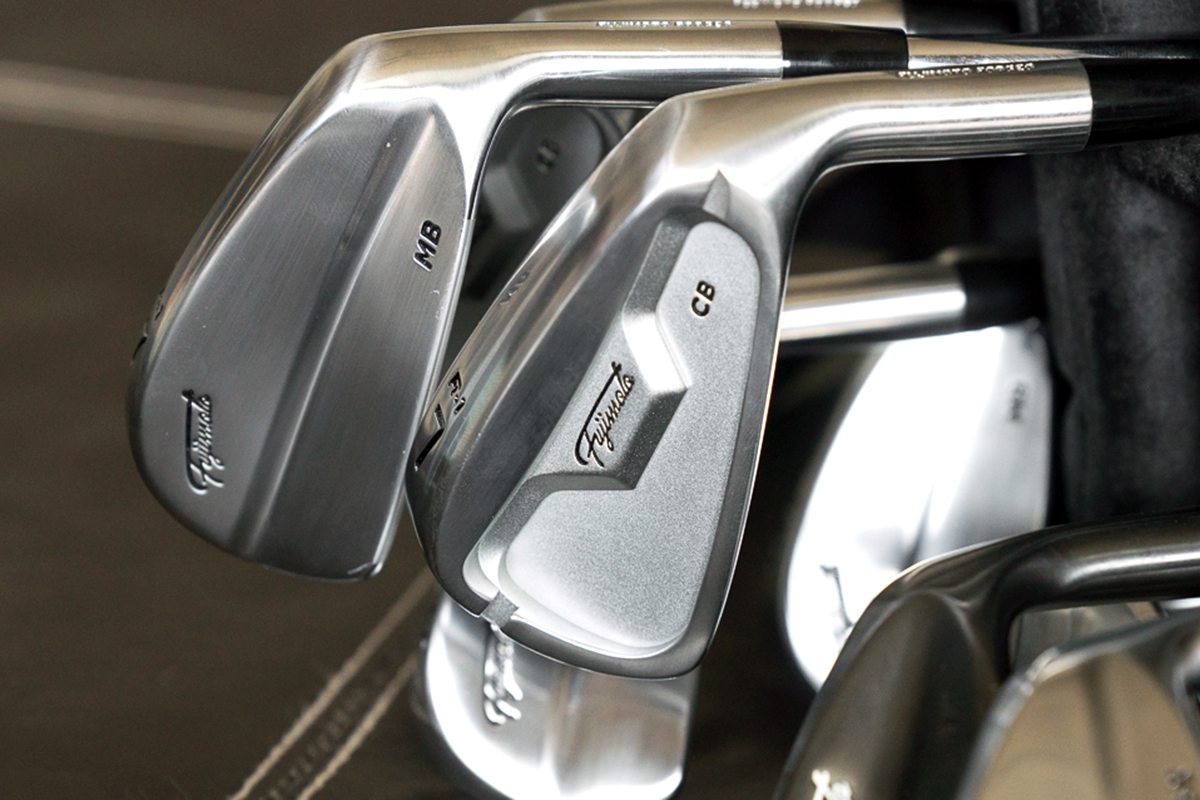 STRAW ASH
Fujimoto believes it can perfect the modern forged iron by purposely avoiding mass production and going to lengths other OEMs would find cost aversive. It begins with an exclusive agreement (not altogether different from what Mizuno has in place with the Chuo forging house) with a steel supplier which provides only Fujimoto with various raw metals, including SS400 structured steel (the closest comparison would be 1020 or S20C carbon steel). The catch here is that to get the quality and consistency Fujimoto wants, it must purchase billets in 1-ton increments as it's nearly impossible to source this quality of raw material in a 15-20 meter rods.
From there, each head is forged, and CNC milled to precise specifications, but it's the construction and 72-hour annealing process which Fujimoto believes gives it a point of distinction amongst an already niche group of manufacturers. In general, forged irons are formed via a sequence of strikes starting with raw steel billet which is heated (1200 degrees Celsius) and struck by hydraulic forging hammers and then reheated and struck again. Across the industry, 3-5 strikes are typical depending on the design and what each company believes is best practice. There's general agreement that the final strike should occur around 880° Celsius, where the carbon and iron atoms are most structurally balanced, but the head is still malleable. That's typically where the forging portion of the story ends.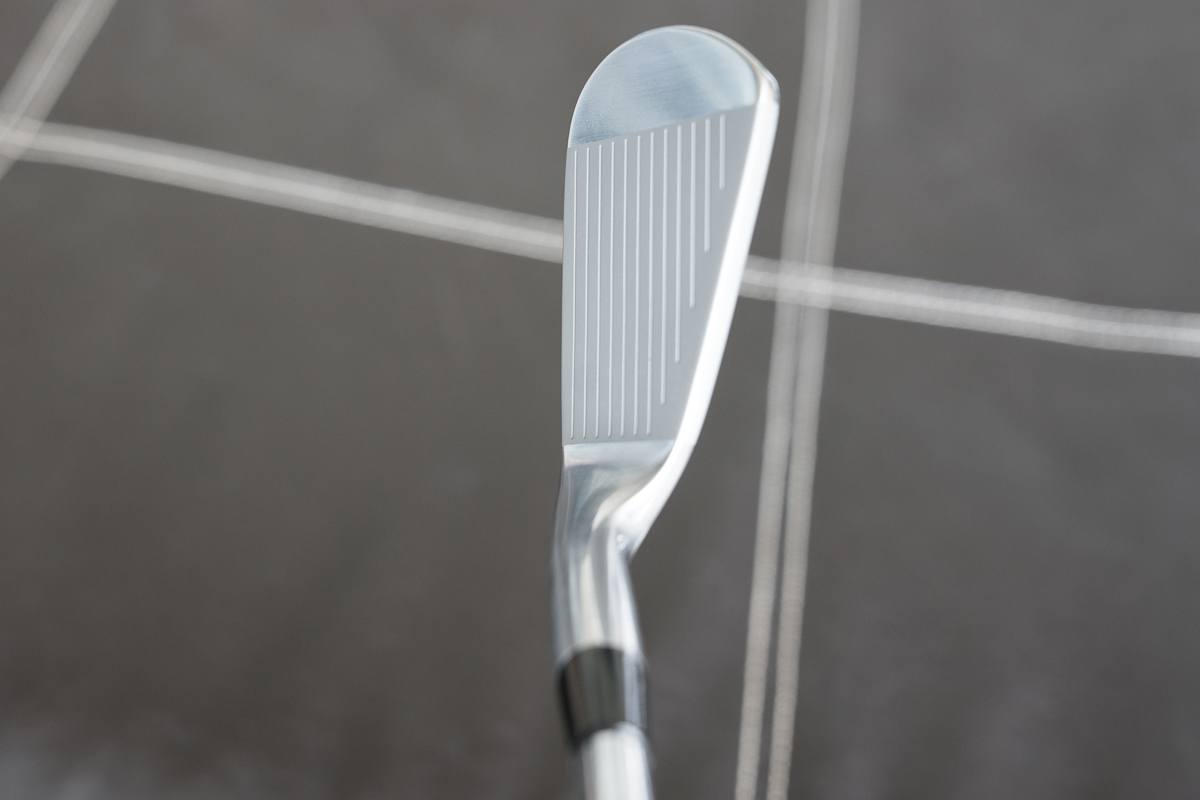 Very few companies talk about the rate at which the head cools but controlling this process (annealing) is where Fujimoto injects its secret sauce. Fujimoto anneals each raw head for 72 hours in buckets of straw ash to reduce metal hardness; giving each blank forging a unique metallurgical state which, according to Fujimoto, results in its signature feel.
LINEUP
Fujimoto's lineup is simple: Muscleback – cavityback – wedge. Fujimoto isn't trying to be all things to all golfers. It reminds me of a small restaurant near Sturgis, South Dakota, which has two menu items (Little Steak, Big Steak) and a line out the door every Friday and Saturday night. Two iron models (2 ½ actually) and one wedge isn't the full buffet of options most buyers expect, however, there's something to be said for sticking to what one does well.
The FT- 1 MB is a time-honored take on the classic muscle-back iron. That includes truly traditional lofts (47° PW). It has a compact footprint, but the sole is wider than what some might anticipate, and with that, more weight is positioned lower in the head as compared to MB irons from previous generations. This so-called neo-blade is marginally more forgiving (or at least easier to elevate) than an option like Miura's Tournament Blade but still targets the tour-level ball striker. In addition to the 72-hour annealing process, Fujimoto adds a copper underlay beneath the satin chrome finish. It's an unnecessary step in terms of performance but gives some indication as to what Fujimoto considers a comprehensive approach. Historically, OEMs would use a copper underlay to boost overall softness but went away from it due to the cost and environmental considerations.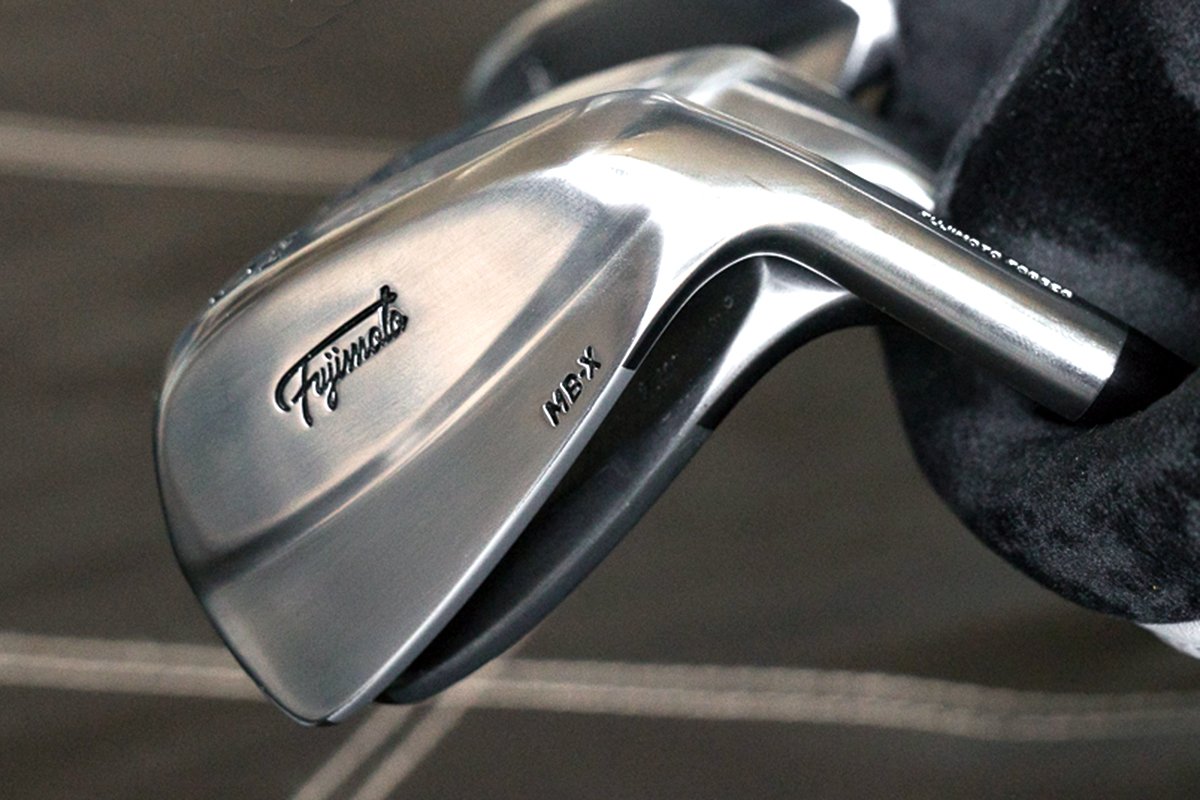 Due out later this year, the MB-X is a one-piece, forged muscle-back iron with a twist. While most hollow-body irons are made in separate parts and welded together, the MB-X is made from of a single billet of JIS SS400 steel. A 9mm diameter opening on the toe removes 40-grams of head weight, which allows Fujimoto to create a lower/deeper CG in a classic muscle-back design. The opening is carefully sealed using a particular welding machine to conceal every indication of the process. According to Fujimoto, the most significant difference between the MB-X and a conventional multi-piece hollow head is the MB-X retains an authentic forged feel, whereas other designs might not feel harsh, but fail to feel the same as a true, one-piece forging.
The FT-1 CB is precisely what one would expect given the geometry of the FT-1 MB/MB-X. All things being equal, the FT-1 CB is slightly wider with more perimeter weighting and stronger lofts (45° PW). In place of copper underlay, Fujimoto used a nickel underlay on the FT-1 CB and maintained overall shaping to allow for various combo-set configurations.
Taking the feel conversation to an extreme, Fujimoto spent the last two years developing the QUAD NINE method (only used on the FT-1 TW wedges), which combines 99.99% pure iron steel with a 1020 soft carbon body into a one-piece, forged wedge.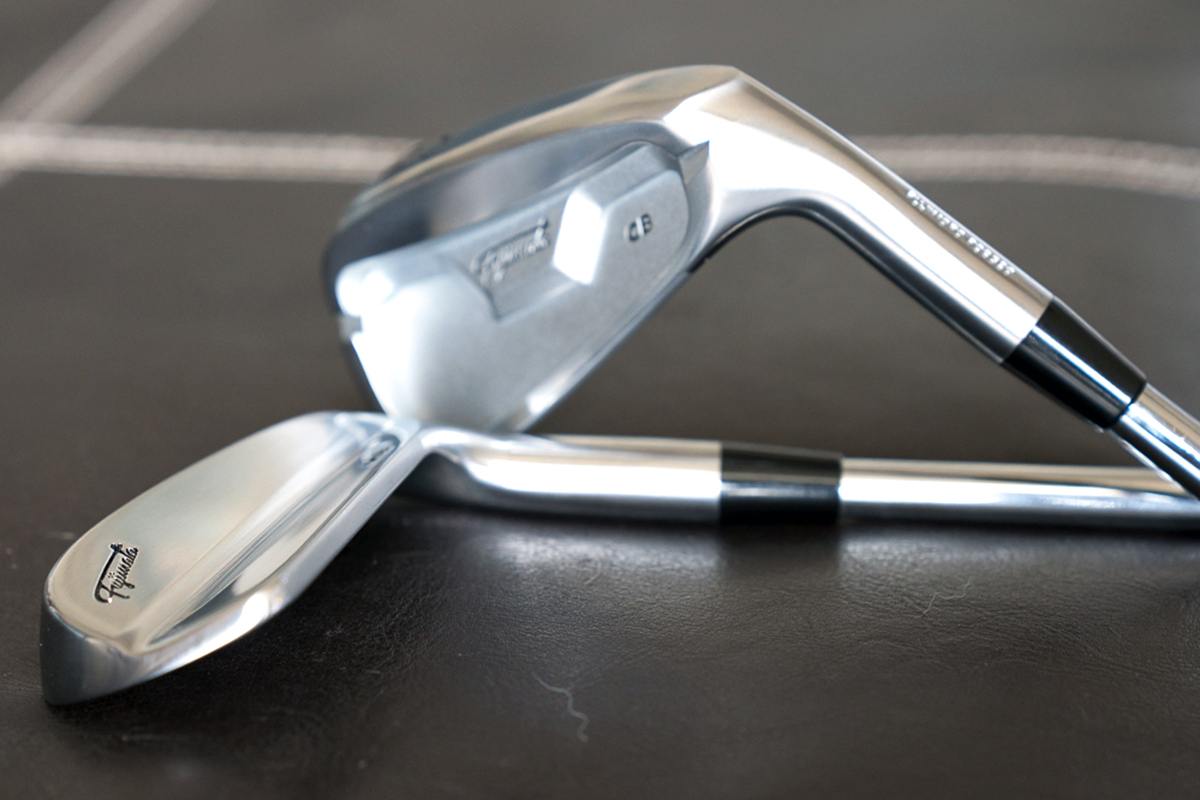 Brief primer – Steel is iron with some amount of carbon. Carbon content and a soft feel are inversely related, though carbon is what makes steel strong. The point is that some amount of carbon is necessary in a forged head, otherwise, while the club might feel down-pillow soft, it wouldn't retain loft and lie specs with any regular use. QUAD NINE is essentially a layer of pure iron on top of the 1020 body, which gives players the sensation of playing a club with metallurgical properties which aren't actually viable for use in golf.
Finally, Japanese Kurozome (Tour Black Oxide) finish is applied, and because it's not a plated-finish, Fujimoto believes the FT-1 TW (big year for those two letters) gives players an unparalleled combination of density and feel.
MOVING ON
Fujimoto is what it might look like to turn back the clock on some of the larger JDM brands and paired the old-school work ethic with an infusion of modern thinking. It's a throwback family-run operation which may not become the next Epon, Miura, or Mizuno, but there are advantages to remaining small and nimble. Like craft brewers, mass distribution isn't always appealing, and in fact, can become the antithesis of what makes a brand unique. With that, much of Fujimoto's story is based on high cost, time-consuming, labor-intensive processes. Though Fujimoto isn't built it scale up quickly, it does have distribution set up in Europe, Korea, and Singapore with plans to expand into North America in the near future.
At $250-$270/club, Fujimoto is priced quite competitively, particularly as prices for mainline North American brands creep up on $200/club for stock configurations. But dollar amounts aside, what distinguishes Fujimoto from other brands – even within the JDM space – is its balance. There's a refreshing absence of over-the-top marketing hyperbole, but Fujimoto is still trying to tell a story. It has a long history of producing forged irons and wedges, but little experience doing so as a private label. It has a cultural background rooted in the geographical traditions of a small, blue-collar blacksmith town, but now hopes to expand into markets where larger brands dominate.
The essence of JDM equipment is small market, forged irons and wedges and what Fujimoto offers golfers is the chance to experience a bit of what it was like before mass production became the norm.
Would you give it a go?