Putting practice is one part of golf that almost every player can do at home. As such, there are TONS of putting mats and training aids available now. So much so, that it's hard to sort out what's worth your money and what isn't. Over the past year, a new product called the Perfect Practice Putting Mat has risen above the noise and taken social media by storm.
After meeting with the co-owners of the product at the PGA Show recently, I discovered a cool story of entrepreneurship. A couple of guys were sick of the poor quality of putting mats on Amazon, so they set out to design a product that addressed all their flaws. With the help of a clever social media strategy involving pro golfers, they now have one of the more coveted putting products out there.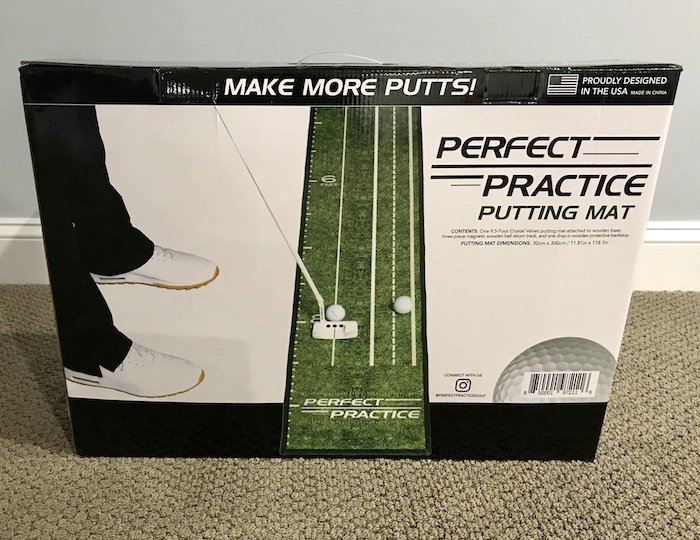 After spending hours putting on the Perfect Practice mat, I'm impressed by its quality, challenge, and addictiveness. In this review, I'll address all of its key features and help you decide whether or not it's worth spending a little extra money on compared to other products out there.
The Buzz
It's not too often that a putting product gets a lot of attention on social media. The only other brand that's "blown up" recently has been PuttOut Golf.
If you're on Instagram, you may have seen a video of the Perfect Practice Putting Mat; that's how I first heard about the product. In the short time that it's been out, they've managed to rack up some nice testimonials from professional golfers. March Leishman, Vijay Singh, Charles Howell III, Lydia Ko, Joaquin Niemann, and Jimmy Walker are a few of the names that have come out with positive testimonials.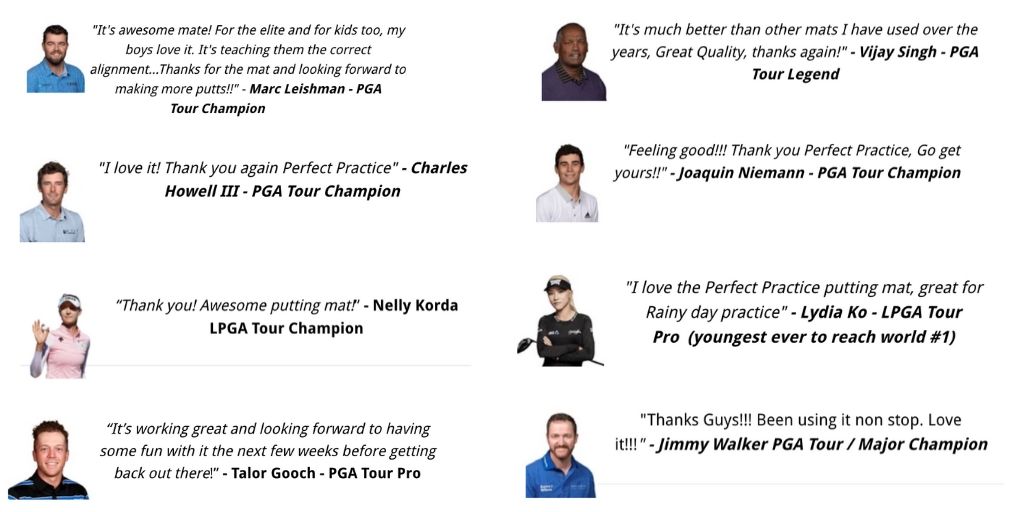 As you know, tour validation is one of the key selling points of just about any golf product. Most of the time, it is through endorsement deals. When I stopped by the Perfect Practice booth at the PGA Show I asked the co-founder Oren Kantor how they managed to get all of the testimonials from tour players. He told me it was just through a lot of hustle. They kept reaching out to pros to see if they'd be willing to try out the product.
Smylie Kaufman was the first player to post a video to his 200k followers, and they managed to keep getting it in the hands of other players. Oren said all of the messaging from tour players is unpaid and 100% authentic.
I can tell you what they've managed to do is extremely hard. Whatever small amount of notoriety this website has managed to garner, I continuously get offers from inventors of training products. I can't imagine how often tour players get badgered. The fact that so many have been willing to try the product, posted videos of themselves using it, and allowed the company to use their testimonials publicly, speaks volumes.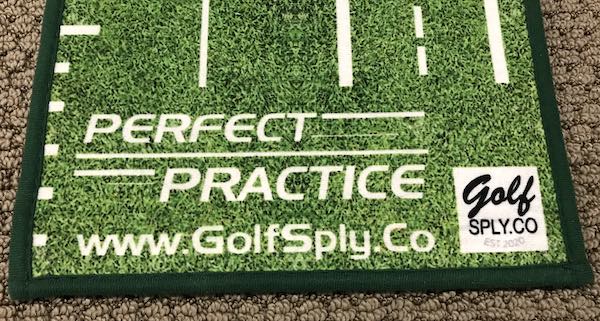 The strategy has succeeded pretty quickly. Since launching in January of 2019, they've sold out several times, according to co-owner Ed Mileto. Whoever gets the product, whether they are a tour pro or a regular golfer, seems to enjoy putting on it and keeps spreading the word.
My curiosity was peaked, so I just had to try it for myself.
What I Like About the Mat
There are a lot of subtle touches about the Perfect Practice Putting Mat that make it a viable at-home practice aid. I'll summarize the main features I noticed after spending many hours putting on it.
Here's a quick video of several putts so you can see how it functions when you make, or miss putts:
The Surface Gives a True Roll
Perhaps the most crucial part of this product is the quality of the surface they used. Compared to budget putting mats I've tried, the artificial turf on the Perfect Practice is a much higher quality. You can expect a faster, more true roll, which is essential when you're working on your putting stroke.
One thing you should know is that it will take about 24 hours for the mat to flatten out. You can make that process go a little faster if you use an iron (not the golf kind).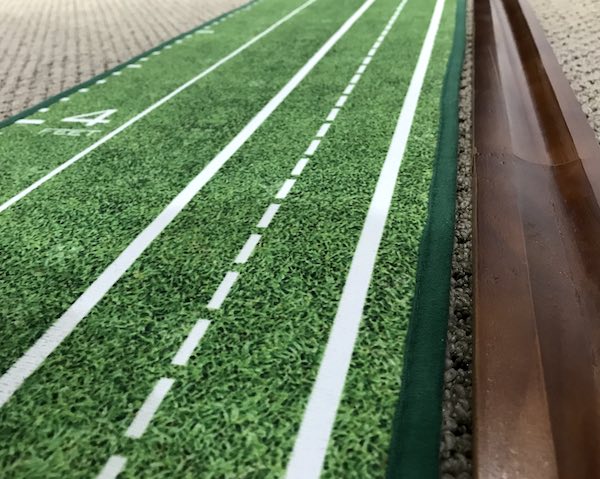 Another thing I noticed is that it works well on either a carpet or a hardwood floor. The material is quite thick and resists slipping, which makes it viable on multiple surfaces.
While I would say both surfaces will give you relatively fast speed, a hardwood surface will quicken the pace.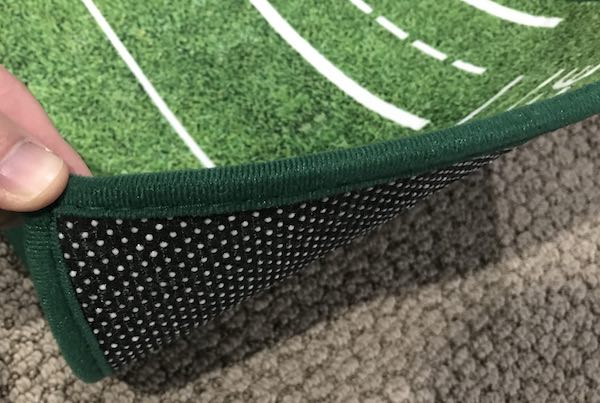 Also, you should know that there might be subtle breaks based on where you place it. On my carpet in the basement, depending on where I put it, there would be a small break in either direction, which honestly is not such a bad thing when it comes to practice. You can probably expect to get little or no break on hardwood, but that depends on your floors (not every floor is perfectly level).
It's Challenging and Fun
My number two observation after hours of practicing on the mat is the level of challenge it provides. The combination of the faster speed along with the option to putt to a smaller hole increase the difficulty.
Years ago, when I had the SKLZ Accelerator mat, I eventually lost interest in using it because it got monotonous. The lack of speed made it easier to sink putts over and over again continually, and ultimately, I lost interest because there was no way to make it harder.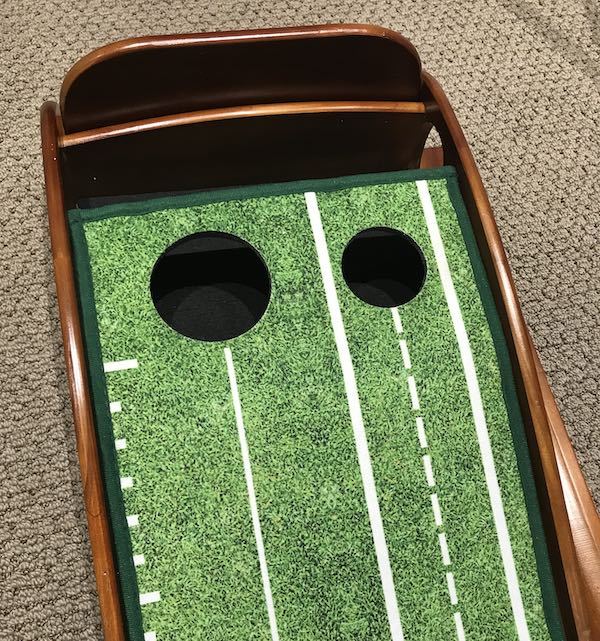 No matter what level of putter you are, I think you'll find it is hard to make many putts in a row either on the conventional-sized hole, or the smaller one.
For example, I had my wife (not a golfer) try out 10-20 putts from the longest distance on the mat (around nine feet). She only made a couple of them. Because the surface is faster, you have a smaller margin of error on your start line.
During my sessions on the mat, I found myself going back and forth between the larger and smaller hole, depending on the distance I was putting from. For whatever reason, when I tried to stop, I kept having that "just one more putt" feeling come on – similar to an addictive game on your phone that's hard to put down. Overall, I think that's the product's strongest feature; it's engaging and fun.
The Ball Retrieval Is Nice
I'll confess; when it comes to putting practice, I can get lazy. Despite having a nice platform set up in my basement that resembles a real green, I still invested in a small gadget that spits the ball back at me. For me, one of the best features of the Perfect Practice mat was no matter what kind of putt I hit (short, in the hole, or missed long), I could retrieve the ball within an arm's length of where I was standing.
Some of the other premium putting mats out there do not have any ball retrieval system or any type or border. So if you're practicing on a hardwood floor, and putt off the back end of the mat, you'll be chasing your ball down the hallway. Or, once you've gone through your 3-6 balls of practice, you have to walk to the other side and pick them all up.
Other cheaper mats do feature a similar retrieval system to the Perfect Practice Mat, but they don't function quite as well, and you'd be putting on a less realistic surface.
I think the combination of the retrieval system and the quality of the surface is what makes this product reasonably unique in the current marketplace. You're able to get both. If you keep anywhere between 3-6 balls in the tray, you can keep putting on repeat for as long as you want without having to bend down and pick up a ball.
The Design
When you're working on putts inside of 10 feet, you're alignment and ability to start the ball on your intended line become even more critical.
Like some of the other premium mats out there, I think the Perfect Practice has some excellent design features. Having the distances marked, along with the various alignment lines and borders, helps give more structure to what you're practicing.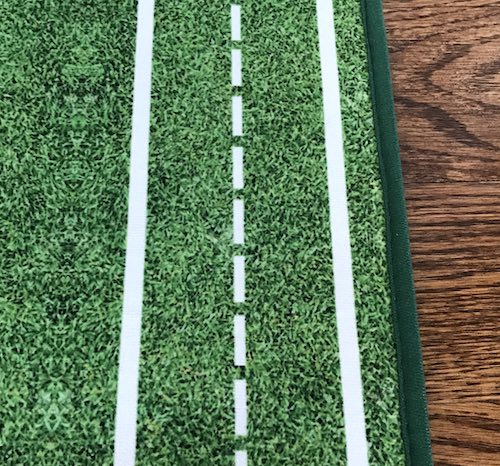 I would recommend experimenting with putting outside of the lines as well. For example, I found it even more challenging to putt across the mat to the hole on the opposite side. So if my ball were on the left side, I would aim at the smaller hole on the right, and vice versa. You'll challenge yourself to align yourself properly without the help of the lines.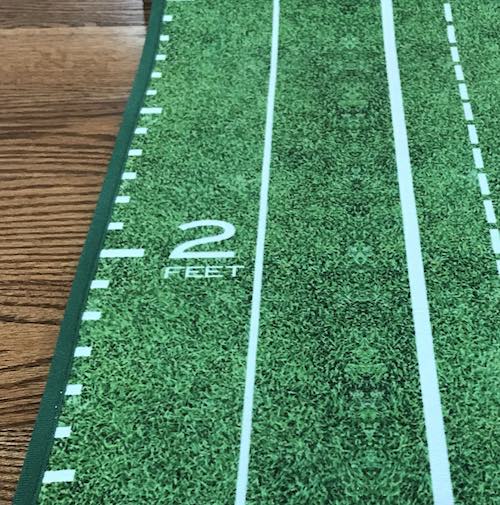 Premium Appearance
Aside from the functionality, another thing the Perfect Practice Putting Mat has going for it is its appearance. How it looks may or may not be a big deal for you, but it could be for your significant other.
The combination of the finished wood on the exterior, and the grass design on the turf, make it look a lot nicer than black plastic and the deep green you'll find on budget mats. So if the mat will be prominently displayed in your house or apartment, it will fit in a bit nicer in the room.

Again, this might not be a vital feature for some people, but after the product sat in my house for a couple of weeks, I did notice it was less of an eyesore than some other products I've tried.
How I Would Use It
Practicing your putting inside of 10 feet is very important. These are the distances where golfers have a decent chance of making putts.
I often bring up these stats to give people perspective on putting, and its difficulty:

Using these percentages as a guideline can help benchmark your progress. There are plenty of different games you can play to keep yourself engaged and challenge yourself to build your putting skills. Here are a few you can try out:
Line up six balls roughly a foot apart. If you make the first putt, move on to the next one. Each time you miss, you have to start all over again. See if you can make it to the last putt. To add a challenge, you can keep going with the smaller hole, or add to the number of putts you have to make on each station (2, 3, or 4 in a row).
A variation of this game is to slightly change the position of each ball to force yourself to re-align before the next putt (pictured below)
Pick a distance on either the standard cup, or the smaller one, and see how many putts you can make in a row. Have a leaderboard to keep track of your best scores from each distance.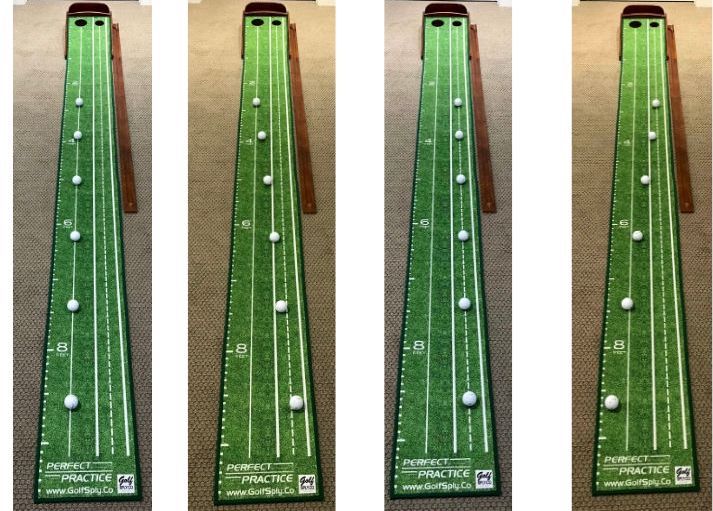 Is It Worth The Price?
Like most reviews I do on premium products, the question always comes up, "Is this thing worth the money?"
In a random coincidence, one of my friends randomly sent me this text message a few days before I even got the mat.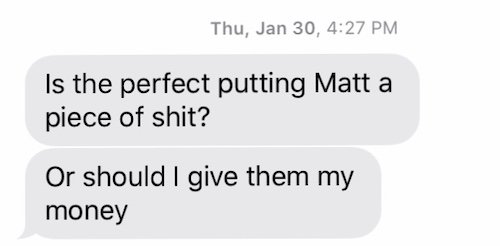 The Perfect Practice Putting Mat retails for $150 on their website. They've given me a code for Practical Golf readers, so you can get 10% off using code PRACTICAL10 at checkout to help a little with the cost.
But $135 or $150 for a putting mat isn't exactly cheap. There are plenty of products on Amazon for $40 – $70 that have similar features. Those mats were the inspiration for this product, and I believe that they made a better version.
While I can't account for all of your budgets, I think if you invest the extra money, you'll get a better overall experience. My hunch is you'll get to practice more effectively, but more importantly, you'll stay more engaged and use it longer. If your goal is to improve your putting at home, investing a bit more could be worth it. That's not to say the budget mats are entirely worthless, though; this is just a better mousetrap.
Also, there are some other considerations from other premium mats. There are a lot of mats that have a similar quality turf in the $80 – $100 region. But some don't have a real hole or a ball-return feature. I think the primary considerations are the ball return element and having a "safety net" for your putts. If you don't feel like walking to the other side of the mat to retrieve your balls, or if you are putting on a hard surface and don't want to chase a golf ball down the hallway, then investing the extra money could be worth it for you.
Overall, I think the Perfect Practice mat combines many of the features missing from some of its competition into one product. You'll pay more for them, but I suspect that is the main reason why this product has been so popular as of late.
You can purchase the Perfect Practice Putting Mat on their website here. Using code PRACTICAL10 at checkout, will you get you a 10% discount.
Also, they have just announced pre-orders for their Compact Edition here. A larger version that is about 14 feet is on the way as well.
The post Perfect Practice Putting Mat Review: The New Sensation appeared first on Practical Golf.