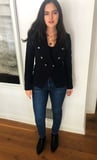 A blazer is a piece of clothing that makes me feel put-together and powerful, like I can take on the world, so I'm always stocking my closet with the wardrobe essential. I've been looking for a style that's double-breasted because I think it adds a bit of drama, and that's always fun. I recently found myself in Banana Republic, and when I laid eyes on this Double-Breasted Blazer ($199), it was pretty much love at first sight.
What's so great about this blazer? Well, dear reader, so many things. It fits like a glove; it's not too tight in the arms, too short, or too oversize in the shoulder. It's just right. The buttons add a little flair but don't feel overwhelming on someone like me, who has a bigger chest. The best part, though, is that it's machine washable. I'll let you have a second to soak that in. I've never owned a blazer that's machine washable, and since I always forget to pick up my clothes from the dry cleaner, it's settled; I'm never taking this off.
I like wearing a blazer with jeans and a t-shirt because I think it gives a polished yet casual feel, but this could also be easily worn with a skirt or pants to the office. The world is your oyster with this blazer, and I even scored it for 40 percent off. Plus, on my way to check out, I picked up this cute Layered Enamel and Chain Necklace ($58) because I really love to shop. It looks so good with the blazer, though! I practically had to. Just keep reading to shop my entire look, and trust me when I say, you're going to want this blazer.