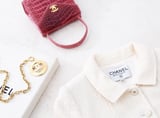 Shopping resale and vintage clothing has become more and more popular with each passing year. Not only does it give you nearly unfettered access to one-of-a-kind jewels, past designer collections no longer in stores, and the closets of some of the chicest women you've never met, but it's also a more sustainable way to shop. It is, quite literally, the embodiment of the saying "one person's trash is another's treasure." In a newly released survey conducted by resale company Vestiaire Collective, 73 percent of respondents said that they "go to the platform looking for desirable pieces they can't find elsewhere and their friends won't have," while a whopping 97 percent said that they "shop pre-owned as they are looking for value for money and good deals."
What's more, the merchandise selection is killer. Finding that special something becomes almost like a game – especially as you sell from your own closet to finance your style-loving habits. Hence why The RealReal has taken on the slogan "I shop, therefore I consign." Ahead, find the best places to buy (and sell!) vintage pieces and exactly how to go about the process.
Additional reporting by Laura Lajiness.