There are brands that you know and love and always seem to find their way into your bag. Then there are brands you know and don't love. Those, well, don't.
But sometimes there are brands you didn't consciously buy because you didn't know they existed, but there they are, sitting in your bag. And why is that brand in your bag? Because you love it.
So riddle me this, Batman: how can a brand you never knew existed – and you didn't knowingly buy – be in your bag because you love it?
The answer is found in a mother's inspiration and a son's journey – one that started in Northern Ireland, went to South Africa, back to Ireland, on to Asia and the U.S. and more than 30 other countries. You'll find the answer at Pebble Beach, St. Andrews, and Falcon's Fire, as well as where it all started, in Newcastle. The answer is at all four Majors and the Ryder Cup, and it's in your bag, on your bag, and in your pocket, or maybe even on your head, over your head, or in your trunk.
The answer, fellow travelers, is called PRG.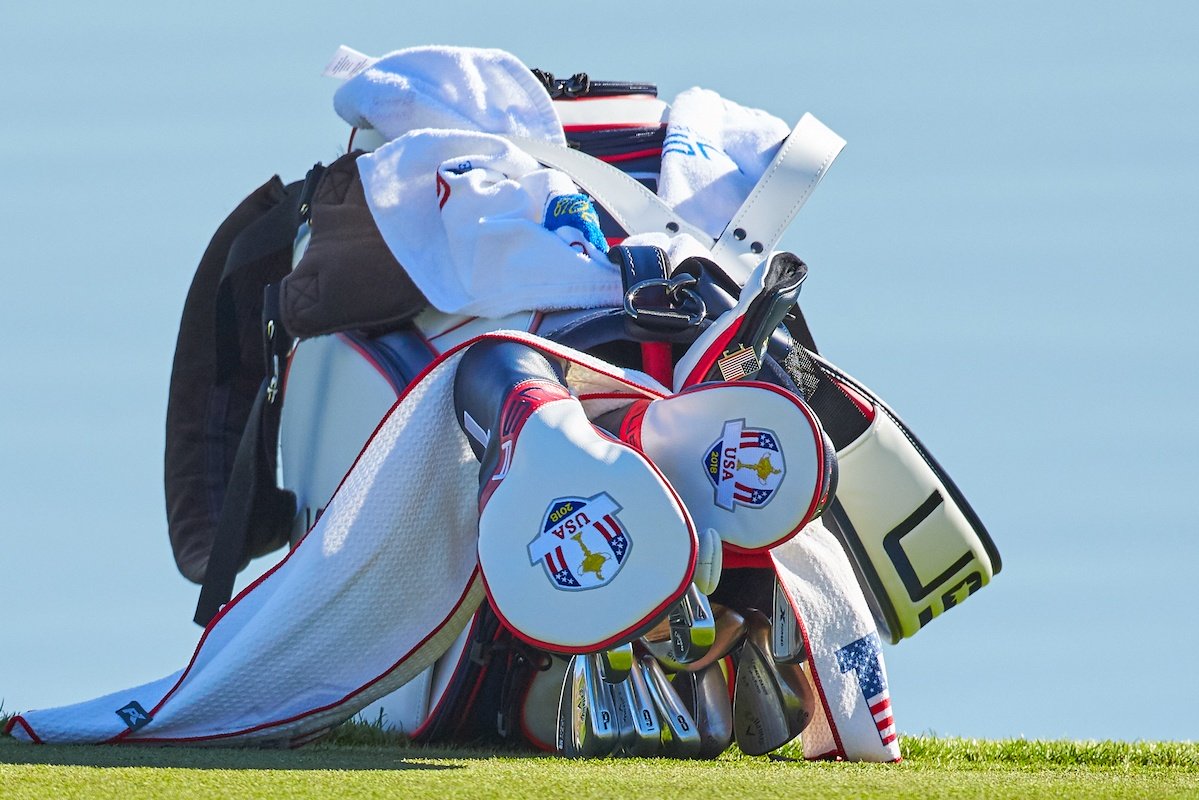 The Brand You Don't Know
If you've ever done the Golf Trip thing and brought home a souvenir, there's a good chance it's a PRG product. If you've collected driver, fairway or putter head covers from any destination course you've played, go check them out right now and hunt for the label. I'll bet my entire collection of autographed Jan Stephenson calendars it's made by PRG.
"No matter where I go, like the golf club in Hong Kong, I look at all the bags," says PRG Founder Stephen Riley. "I'll walk through the bag room where all the clubs are just sitting there, and it's amazing how many products are ours. I look and go 'that, that, that, that, that, that….'"
Actually, it's more accurate to call Riley the Co-Founder of PRG. The other co-founder was his Mom, Pauline.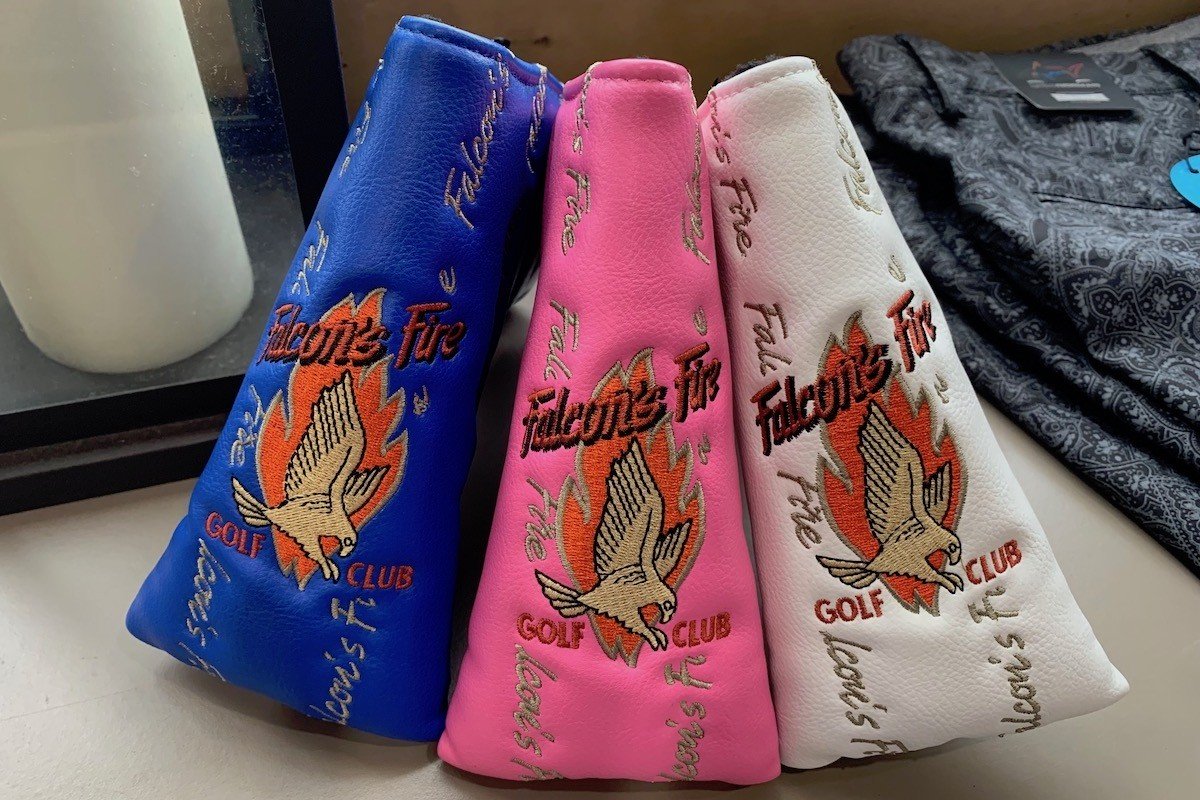 "My Mum used to work for Titleist," says Riley, in an Irish accent thicker than a pint of Guinness. "Titleist decided to start up their own offices, so she went to work in distribution with Champ and Golf Pride."
Riley was – and technically still is – a golf pro and had been plying his trade in South Africa. When he came back to Ireland in 2006, Stephen saw his mom needed a hand, so the dutiful son jumped right in.
"We were doing accessories, your divot tools, your head covers and stuff like that, but we realized there was an opening for customization because at that stage nothing was branded."
There was an opening, but there's a big difference between seeing an opening and actually filling it.
"That first call was to Kevan Whitson at Royal County Down in Newcastle (Northern Ireland)," he says. "I remember leaving the shop with an order for like 18 customized head covers and felt ecstatic. In those days the production was actually in England, so it was a small local stitch shop done by one guy. That was literally how it started, and from there, it slowly expanded."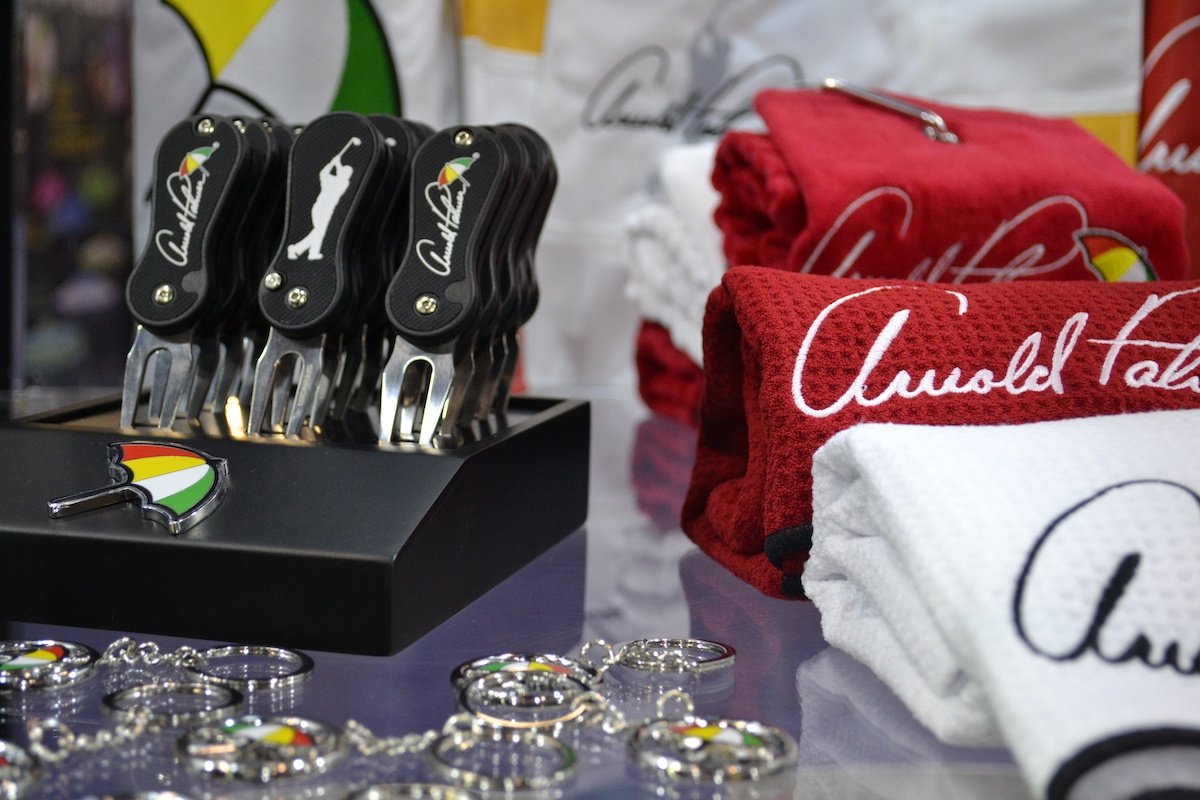 That was 2006. Today, PRG has anywhere from three-and-a-half to four million products going out the door annually. And it's a door – and factory – that's PRG owned and operated.
Growing Pains
Company profiles are fun to write and – I hope for you – fun to read. It's easy to forget that Callaway and TaylorMade weren't always Callaway and TaylorMade– both companies started as a person's idea to fill a void. What makes the journeys interesting are the highs, lows, and leaps of faith along the way that get you from hickory sticks or Pittsburgh Persimmons to a billion dollars in sales or, in PRG's case, from 18 head covers to four million pieces a year.
"We weren't the first company to customize, there are a lot of American companies that had been doing this for a long time," says Riley. "I guess one of the quotes I keep in mind is, when I met Kevan Whitson, he said to me, 'Don't try to reinvent the wheel. Provide good quality, good product, good embroidery. People buy the logo." And that was all they wanted."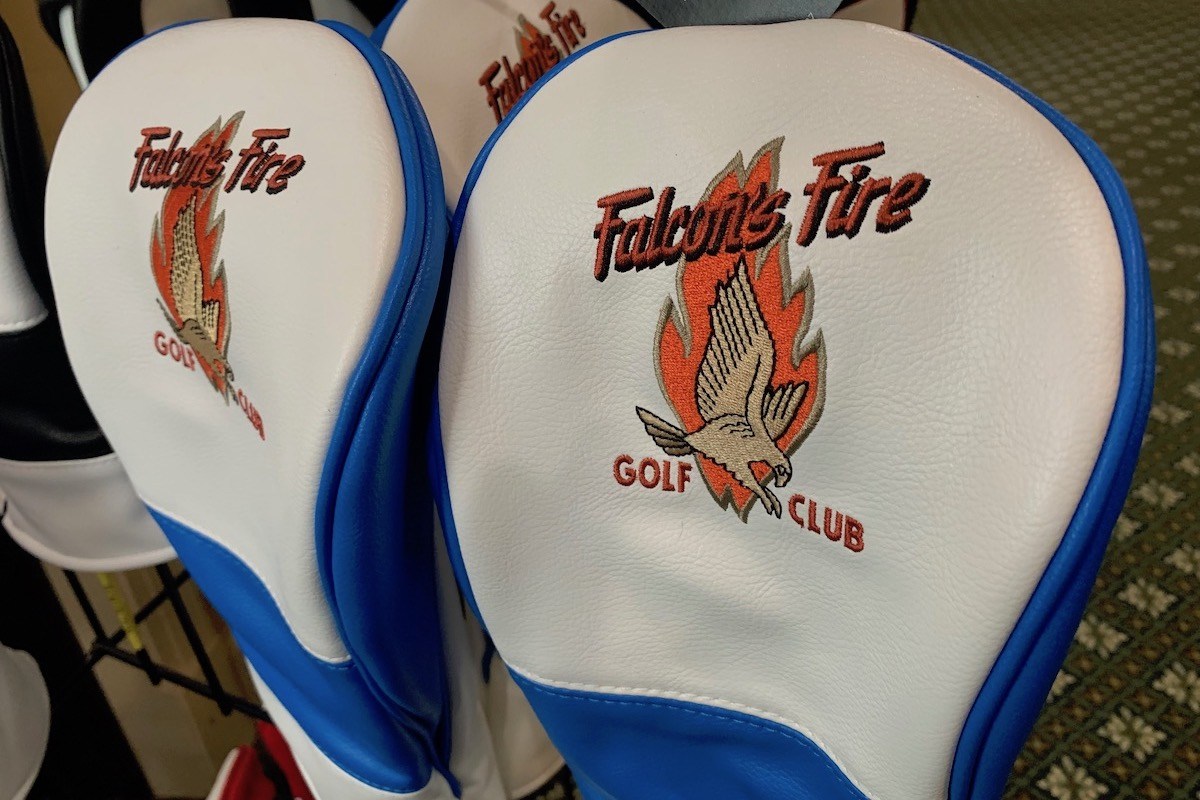 Those early days were a struggle. Along with golf accessories, Pauline and Stephen would create accessories for soccer (excuse me, football) teams such as Manchester United and Chelsea, but finding factories to create the quality the Riley's wanted, but in the smaller volumes their customers preferred, was proving to be problematic.
The solution? Do it all – from material sourcing to production to sales – on your own.
"We do everything in house," says Riley. "We source our own materials, but once that material hits our warehouse, from start to finish, everything is done under our roof. Cutting the material, the QC, the inspection, the internal systems, and the embroidery and then the packaging, it's all done by us in one facility."
2011 was a milestone year for PRG, as Riley consolidated his operations. The PRG facility is in Asia, and Riley spent much of that time learning how to navigate the often confusing and conflicting world of sourcing quality materials. It all may look the same, but it took a while to learn the good stuff from the not-so-good stuff.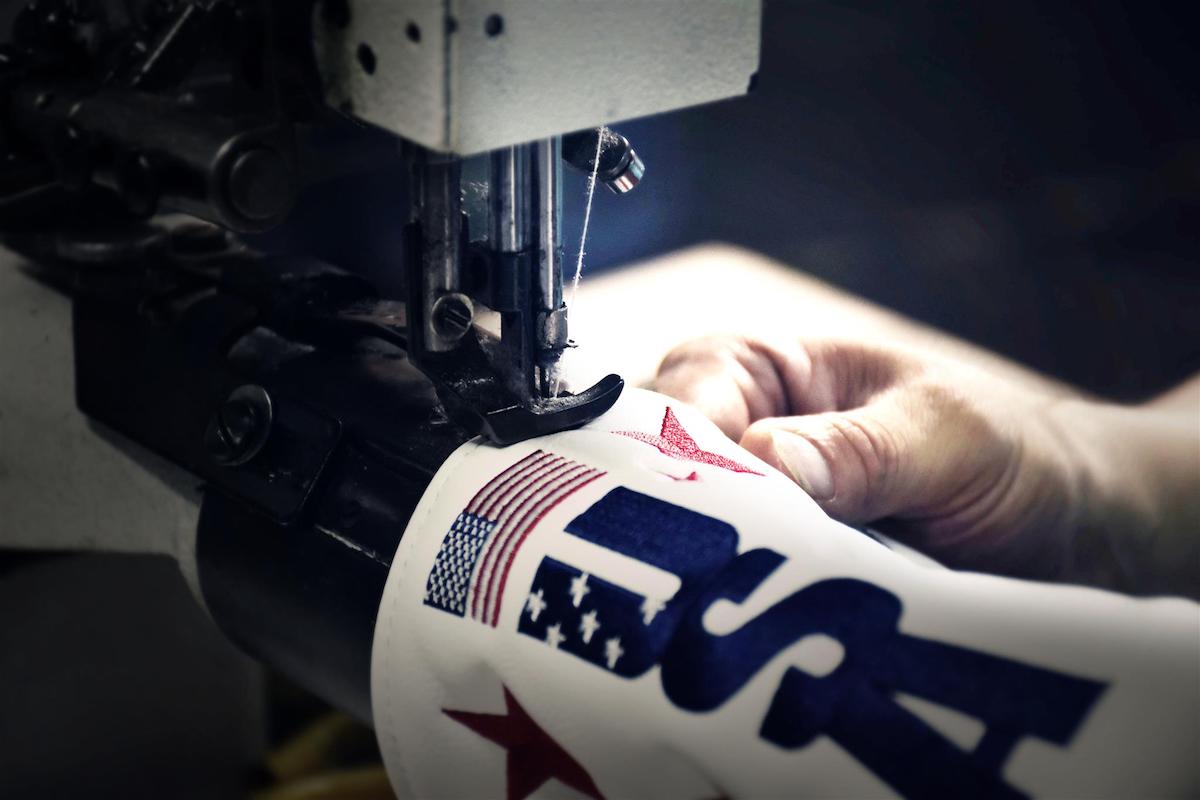 2011 also saw PRG establish some clientele in the US. The future North American distributor for PRG was playing Royal County Down that year and fell in love several of Riley's products, and faster than you can say Bing Crosby, Pebble Beach placed its first order.
The Full Monty
In addition to logoed headcovers, PRG makes a full line of accessories – pretty much anything metal, injected, stamped, polished or color-filled. Riley's value proposition is three-fold: excellent quality, a surprisingly affordable price, and unique offerings that ship on time.
"I don't know anyone else that owns their own factory," says Riley. "There are a couple of U.S. companies, like Seamus Golf and companies like that, but if you look at the difference between them and us, they're not a one-trick-pony, but they don't have the same capabilities when it comes to the stitching processes or the different ways we'll put a head cover together. They won't have the same machinery because they're not big enough."
Much of PRG's clientele is made up of destination or resort-type courses, where people come from all over to play and want to take home unique souvenirs. Seriously, how many hats or shirts can you really own?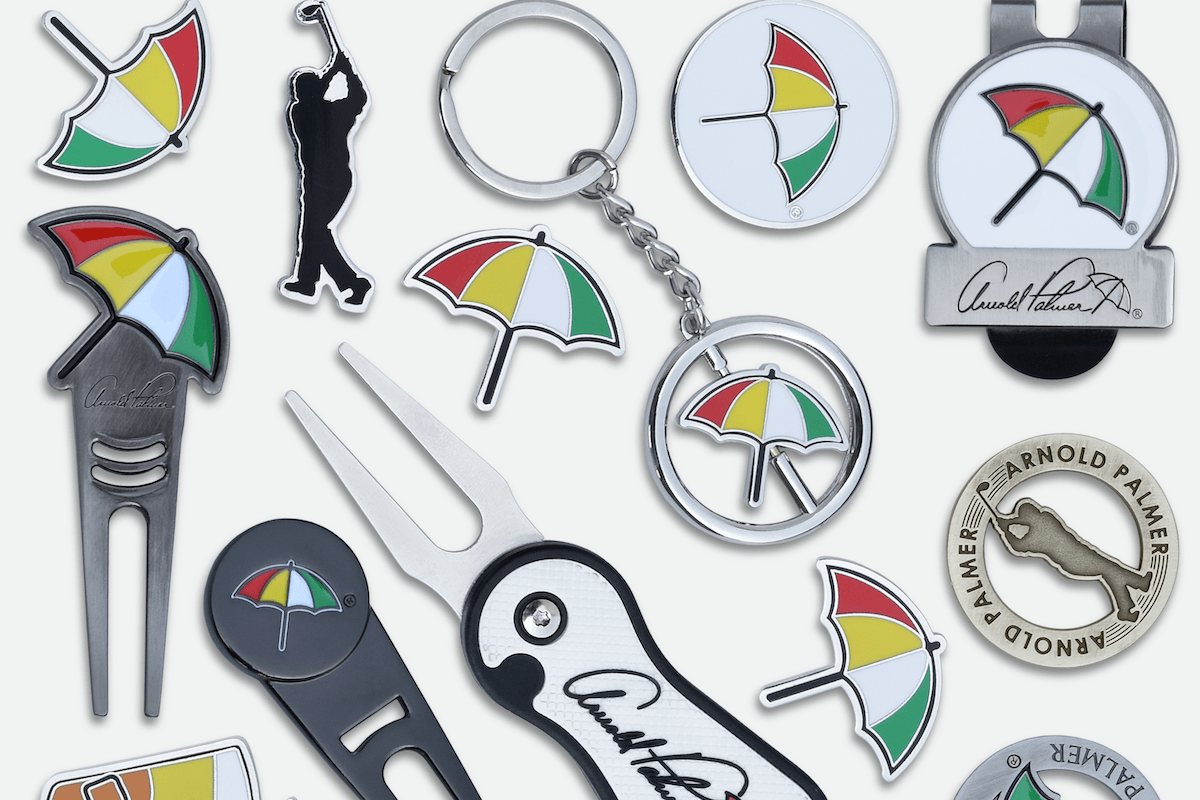 "One of the things we've done well is we cover a very wide spectrum," says Riley. "Whether it's a bag tag, a divot tool, a ball marker, a golf towel, a pom-pom head cover, umbrella or even a cap, we're covering it all. Our customers, they trust us to deliver year-on-year with good quality."
A recent visit to Falcon's Fire Golf Club in Kissimmee, Florida bears that out. While browsing in the Pro Shop, which was well stocked with PRG head covers in different styles and colors, the assistant pro told me they sold well for two simple reasons: excellent quality and a really sweet price.
"One thing I've seen consistently is we have phenomenal sell-through," says Riley. "A lot of the customization companies bring in product and they sort of half-customize them in-house. It would look very cheap, and at the end of the year, golf clubs would have a lot of product left unsold. When I go back to my customers in September, they always sell through the product."
"I guess that gives them the confidence to reorder."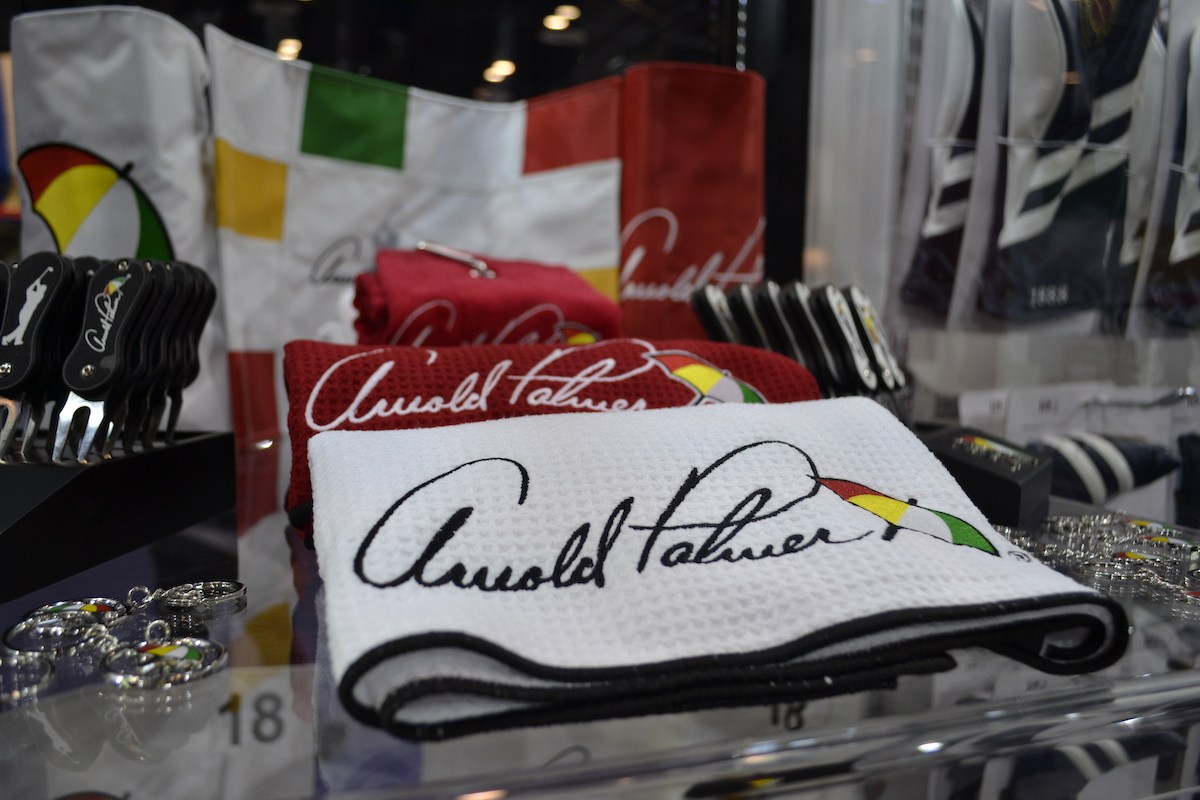 The Brand You Know?
Have you checked any of your souvenir head covers yet? How about any divot tools or different colored ball markers that you may have picked up in your travels? More than likely, they're made by PRG.
That's the core business, and it has been built up year-over-year until reaching a self-sustaining, near-annuity status. PRG also makes merchandise for golf's biggest events, including this year's Open Championship in Royal Portrush, right in PRG's backyard in Northern Ireland. It's the first time PRG has provided product for an Open, which gives the company the merchandising grand slam of all four majors.
And despite its European heritage, PRG supplied last year's U.S. Ryder Cup team and will do so again next year. And in what is clearly a case of headcover envy, it looks as though the European Ryder Cup team will be jumping on board, as well.
Still, Riley wants The Brand You Use But Don't Know to morph into The Brand You Use and Do Know.
"We're starting up our own branding under the name Originals," says Riley. "There's been a good trend in the market, toward high street retailers like Worldwide Golf or Golf Galaxy. They'll have a Titleist or a TaylorMade leather headcover for $90, or they'll have something cheap for about $7. They don't have anything of nice quality at an affordable price, like $25 or $29."
Currently, the Originals line features putter and driver head covers as well as alignment stick covers, with themes ranging from Route 66 and Las Vegas to American flags, Lucky Charms, and various pop-art designs.
"They're fun, collectible things," says Riley. "Good quality with affordable pricing."
"Internally there are capabilities in terms of design and creativity," says PRG's PR man Darren Phillips. "Up until now, the business hadn't had the credit it deserved because everything was done under somebody else's name. PRG was the sub-brand."
Riley says the long-term goal is to expand the product range and establish PRG as its own brand by pushing social media and working with Tour players.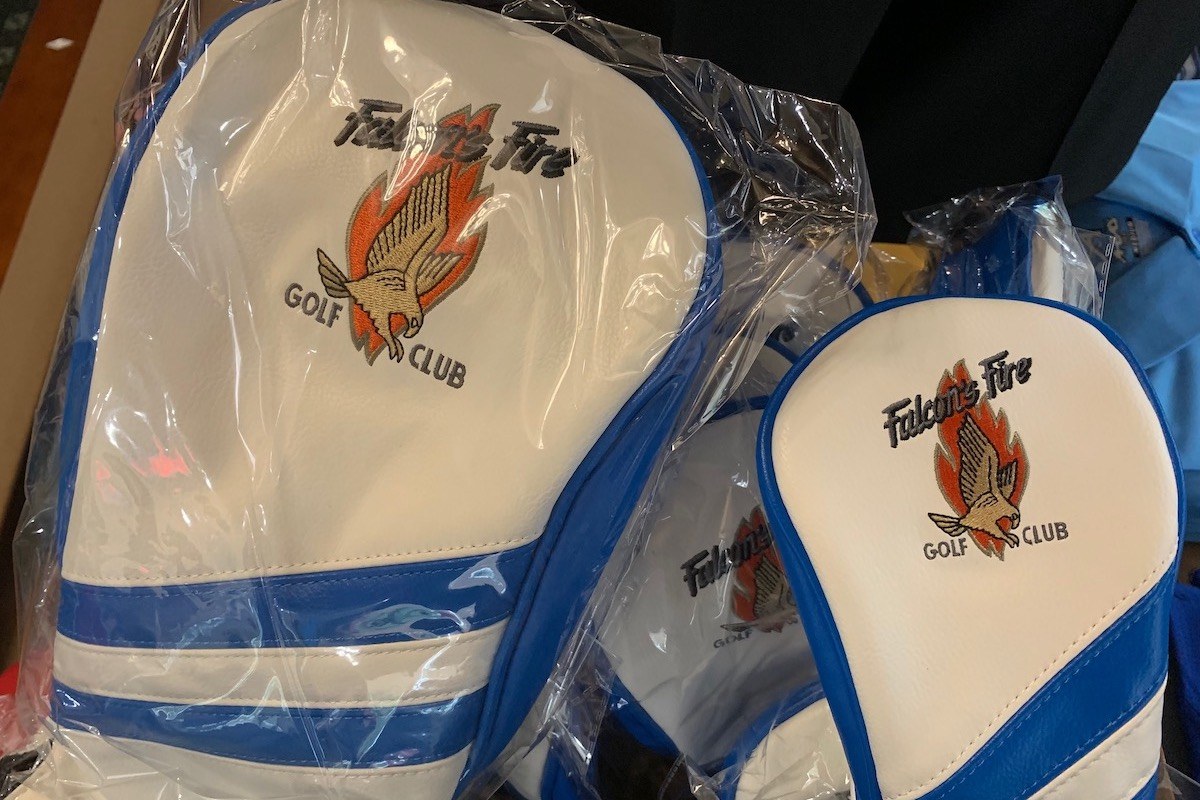 "Tour players are a big presence where I want to spend more time," he says. "Whether it's with Graeme McDowell or Ian Poulter or whoever it is."
And despite what you may think of social media marketing, Riley does admit it's one way to build a brand.
"If you look at SWAG Golf, Tyson Lamb or some of those other guys, if social media didn't exist, they wouldn't even have a start," he says. "Those guys are creative, but they're $120 a head cover, not $30 a head cover. They spend their marketing budget going on social media influencers. One I saw recently was one of those pretty golfing girls – one of those golf babes –, and it was like welcome to the team and all this."
"That's how they're building their market. We built our market honestly over the last 14 years or so, just on good, consistent delivery year over year."
May The Road Rise Up To Meet You…
The reason we enjoy sharing stories like PRG's is simple: there are a ton of them in golf – personal, fascinating and – sadly – untold. And if knowing the backstory on that headcover you bought at Pebble or the souvenir ball marker you picked up at the U.S. Open makes you enjoy either a little bit more, all the better.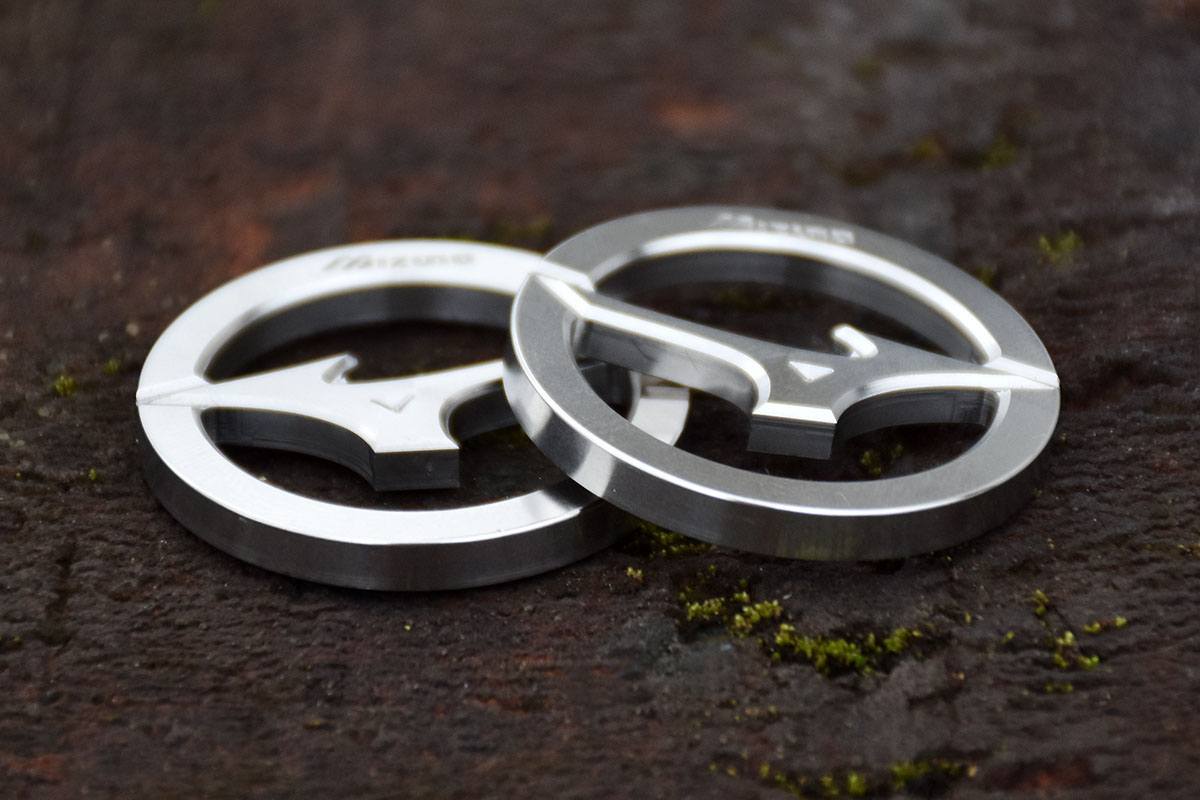 There's an old Irish proverb that says: You've got to do your own growing, no matter how tall your father was. We all know about the luck of the Irish, but PRG's story is more about pluck than luck. Riley put in his 16- to 18-hour days, six days a week for several years to not only establish his business but to create an entire operation.
"My aspiration has been to get to the top of the river," he says. "When you start at the start of the stream, no one can get in front of you. I knew if I could source material in bulk, I knew if I could make the product, and I knew if I could manage the factory correctly, no one could cut in front of me."
"If you went back 20 or 30 years, you might have a company going to Taiwan, with a trading company in the middle and another trading company in America. There'd be a couple of layers in the product line. Now it's just us. It's us making it and it's us distributing it. We cut out all those other layers, and that's why we haven't been greedy. We've kept the price down to be more affordable" – Stephen Riley, PRG
No matter where you look in golf, there are stories like this one, and there are people behind those stories. And while Riley doesn't appear to be the type to dwell PRG's journey too long, he does admit he didn't envision the result.
"If you had asked me if I ever thought we'd get to three-and-a-half million or four million products going out the door every year, it wouldn't have been something I'd have thought possible," he says. "Not from starting with selling 18 head covers to one golf club."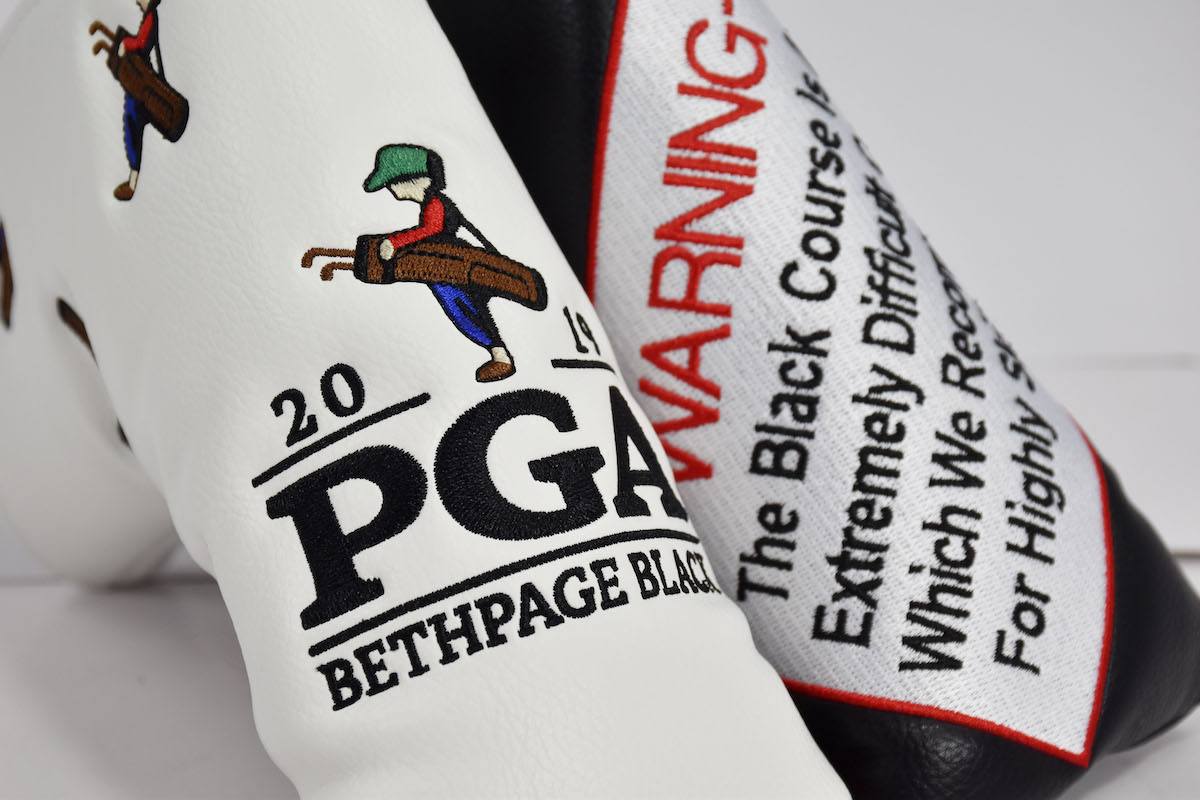 To quote another old Irish saying: May you have the hindsight to know where you've been, the foresight to know where you are going, and the insight to know when you have gone too far.
For more information, visit the PRG website.