I talk a lot about strategy, and how it can really lower your scores. One of the pillars of course management is knowing your yardages to various points on the golf course, which is why I have always advocated most golfers using GPS technology. My number one strategic recommendation relies on knowing the back yardage to every green.
Naturally, I pay very close attention to the marketplace and try to test out all of the new gadgets that come out. For the most part, the industry has been relatively stagnant lately. You can get entry-level GPS watches on a budget that gives you basic yardages to the green. But if you want premium features that go above and beyond, you have to pay a lot more for them.
That is why I was so surprised when I first learned about Voice Caddie's G1 GPS Watch. The list of features was extremely long, and some of them I had not seen before. The price tag was also lower than the industry-leading GPS watch, and it had a more robust set of features.
After testing the Voice Caddie G1 on the golf course, I'm prepared to say it's the best overall value for golfers who are looking for a premium offering. It's fast, packs tons of features, and best of all, will not break the bank.
In this review, I'll take a deep dive into what makes the G1 so unique and how it can help you make smarter decisions on the golf course.
The Features That Set Voice Caddie G1 Apart
Any GPS watch these days can get you yardages to the front, center, and back of the green. That's old news at this point.
If you're looking for added features, such as course maps, shot tracking, or even Bluetooth integration – you have to pay more money. Garmin has dominated this category for years. Two years ago, I deemed their Approach S60 the best overall GPS watch in golf. It's a position they've held since then, and enhanced with other releases like the Approach S40. The tradeoff is the price. The S60 watch has consistently sold between $300 – $400 because there really was no rival.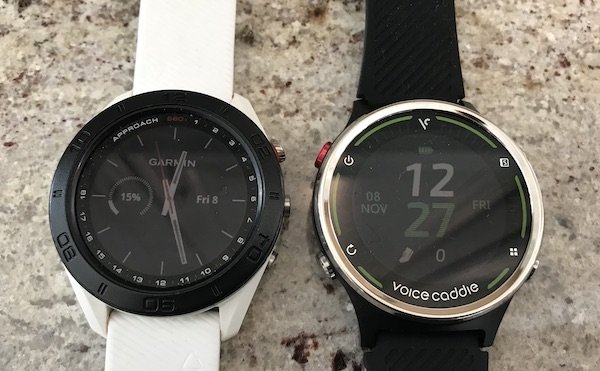 I think Voice Caddie might have knocked them off their perch. And to be honest, it comes from a very unexpected place. Traditionally, they have not had anything in the GPS category that was unique.
When I first saw all of the features that the Voice Caddie G1 was packing, I had to reread the list several times. I'll get into most of them later in this article, but I first want to highlight what makes this watch a bit of a game-changer.
There are three in particular:
Full map touch screen capability
Automatic slope adjustment for yardages
Green undulation maps
I'm going to explore each of these separately to explain why they are so important when you consider the competition.
The Map Is Awesome
Perhaps my favorite feature of the Garmin Approach S60 is the ability to use your finger to determine yardages on the map. So whether you are hitting a tee shot or a layup shot, you could point to a spot on the course such as a bunker or water hazard and find your yardages. When it came out, it was the only watch that boasted a full touch screen. The only issue I have is it was not entirely fast, and I had to wait for the map to load when I zoomed in.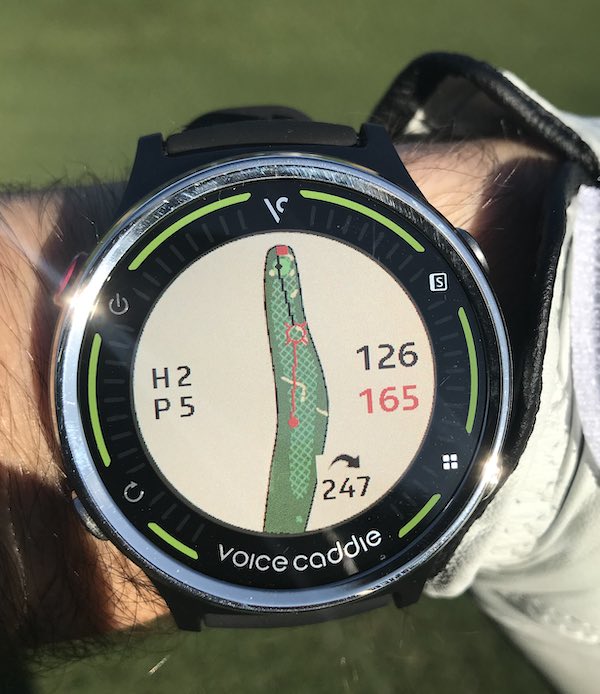 The Voice Caddie G1 is the only other watch that has this feature, and I think they've improved upon it. The image is crystal clear, and more importantly, when you touch the screen, it reacts almost immediately. It's incredibly fast. As you know, hardware technology sometimes changes in months, and it's clear that Voice Caddie has been able to use a faster processor on this watch.
The map shows you your current position on the hole, how far you hit your last shot, and the distance to the target you select. This feature is a big deal.
Automatic Slope Adjustment
The Voice Caddie G1 also packs slope adjustment. It automatically displays your slope adjusted yardage based on elevation changes, which is indicated by the small icon next to the center yardage number. This feature can be disabled if you're playing in a tournament.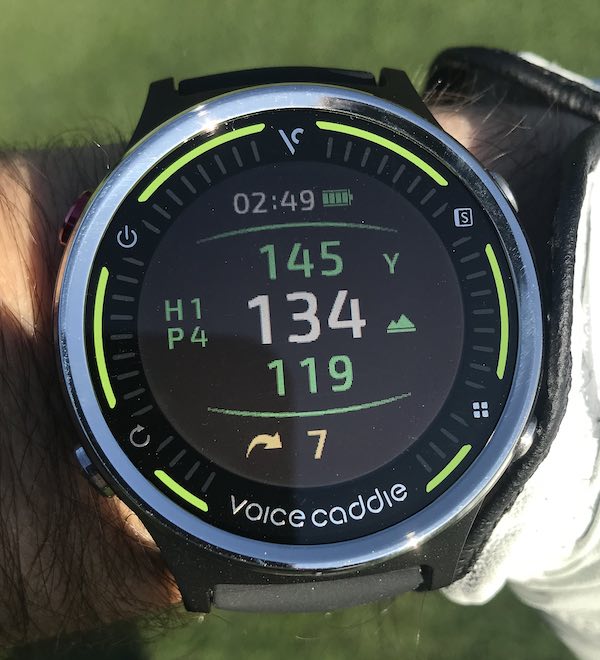 Having slope adjusted yardages is another significant feature for a GPS watch.
Testing on the course, I found the slope adjusted yardages to be very consistent with a couple of rangefinders. You should know that all devices will give their best guess since they all use different means of calculation. On the whole, I think slope adjustment is perhaps the most valuable feature that the G1 watch has over its competition. Taking the guesswork out of elevation changes can help you hit more greens in regulation.
Green Undulation Maps
Something that has never been done before on a GPS watch is green undulation data, and the G1 debuts this technology. Using satellite imagery, they have been able to map out the slopes of greens and quickly display them on the watch (you have to swipe to see it).
The more red shading represents the highest points of the green, and as you transition to orange, yellow, and blue, you start to see the lowest parts.
My course has tons of false fronts and significant changes in slope on the greens. It was interesting to see how the maps represented each green. I found the heat maps to be pretty spot on. You can clearly see the overall slopes of any green and if there is any unexpected trouble awaiting you. For golfers who have difficulty identifying the whole slope of a green, mainly when they putt, this can be helpful.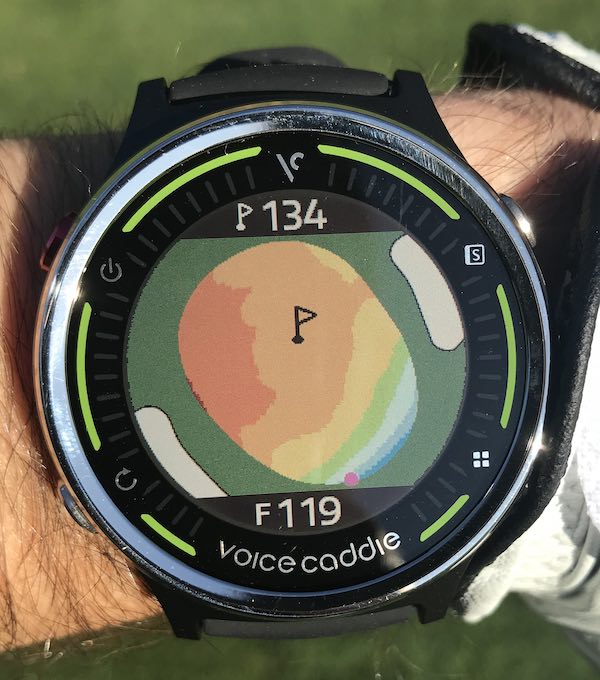 I should note that this feature is not available on every golf course. They are continually adding courses in the USA, and you can search their database to find out what features your course currently has here.
Overall, when you take into account these three unique features of the watch (and it's price tag of $249) – the value proposition becomes very clear.
Plenty Of Other Stuff to Be Excited About
Now that I've uncovered what makes the Voice Caddie G1 unique, let me cover some of its other features. First off, the overall functionality of the watch is a breeze. You can load up your course quite quickly without any headaches. It comes preloaded with more than 30,000 courses, and there are no ongoing fees for updates. As I mentioned, the processor they are using is speedy so there are no delays. Additionally, I found the watch to be relatively light and not a burden to wear on my wrist.
The screen is extremely sharp and has the best resolution I've seen on a GPS watch to date. No matter what the lighting conditions are for the day, you can easily see all of the information on the watch without having to strain your eyes. Voice Caddie also states that the watch is waterproof, so no fears if you get caught in the rain.
On the course, you can quickly toggle between the hole map, overall distance information, and the green image by swiping to the left or right.
Looking at the home screen, you'll see pretty much everything you need. The primary information is slope-adjusted yardages. You also can see the current hole information, your score and shot count (you can use the watch to track your score), and the present time.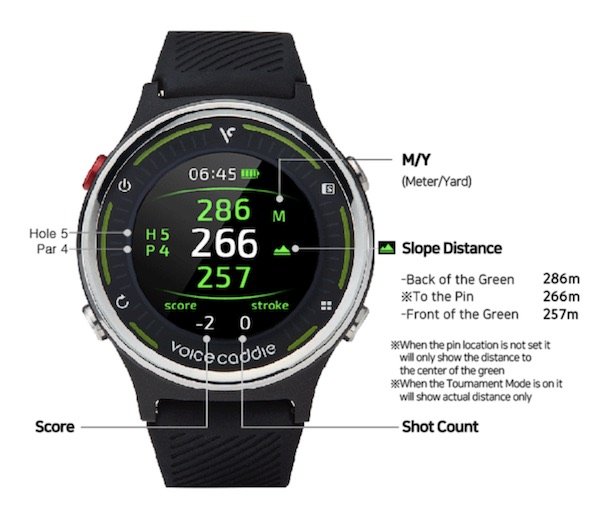 Another feature the G1 has that I've come to love on other watches is that it automatically tracks the distance of your last shot. There are two main reasons I've found this useful – you can start to see how far you actually hit the ball, but more importantly, it's helped me hone in on the location of an errant shot that's been hard to find.
On approach shots, you can also move around the pin position with your fingers. This allows you to get an estimate of your yardages to the pin, and it also shows you your distance to the front and the back of the green. All of this is valuable information that I always recommend golfers should know.
Lastly, the battery life is on par (no pun intended) with other premium GPS watches. You can expect to get 2-3 rounds of usage before you have to charge it.
Some Smart Watch Capabilities
The Voice Caddie G1 also has a few smartwatch capabilities. If you choose to do so, you can wear it throughout the day and pair it with your phone via Bluetooth. You'll be notified of incoming calls and text messages from your phone.
The watch also syncs with the Voice Caddie app to wirelessly transmit updates. When you're finished with your rounds, you can upload your scoring data to the app.
If you're into fitness, the G1 automatically tracks how many steps you're taking throughout the day and displays it on the bottom of the screen. You'll get an estimate of how many calories you've burned. Walking my course yielded almost 14,000 steps!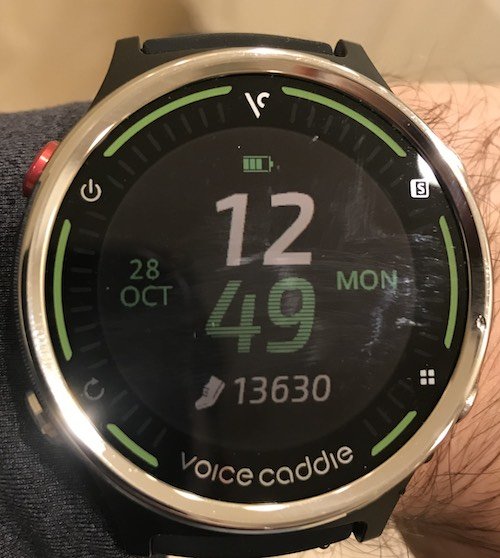 I wouldn't say that the G1 is going to rival an Apple Watch, but if you currently don't have a smartwatch, it can quickly fill that void for you if you choose to keep it on outside of the golf course.
Premium Features That Won't Break the Bank
Voice Caddie quietly released perhaps the best overall value in the premium GPS watch category with the G1 watch. They've matched most of the features of the industry-leading Garmin Approach S60, but for far less money. On top of that, they added new features not seen before. I'll be using this as my watch for the upcoming season, and I think most golfers will be very pleased with its performance.
I did not see this coming from a company that has mostly been recognized for its personal launch monitors – the Swing Caddie SC200 and SC300.
You can purchase the Voice Caddie for $249 using this link (it usually retails for $299). In the current marketplace, I don't think you'll find a better overall package of features for that price.
The post Voice Caddie G1 GPS Watch Review: The Best Value in the Premium GPS Market Right Now appeared first on Practical Golf.