Swing Caddie recently introduced the SC200 Plus launch monitor as a replacement for its SC200 model. Almost all features have remained the same, but they have added swing speed mode – which allows you to measure your swing speed without hitting a ball.
I've had a chance to test the SC200 Plus, and I'll share my thoughts in this review. Overall, it remains one of the great values in the personal launch monitor category. The new swing speed mode allows golfers who are pursuing a training program focused on increasing swing speed to benchmark their progress.
Still A Great Value
The personal launch monitor category has taken off dramatically over the last 1-2 years. There are now a ton of choices, and I've tested almost all of them. You can make a strong case that Swing Caddie was the pioneer in this space. I'm told that the original SC200 launch monitor was the best selling product in the entire category over its whole life cycle. That's why I was a little surprised when I found out it was discontinued.
The SC200 Plus was initially priced at $399, which was slightly disappointing as the original was under $300. Fortunately, you can now purchase it here for $289. Effectively, this is the same price as its predecessor, but now you get the swing speed mode.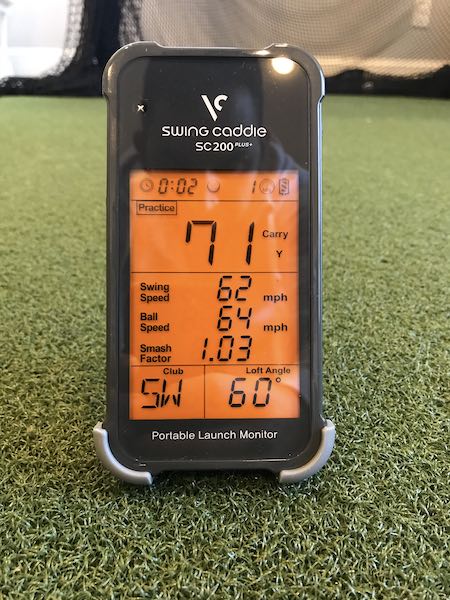 At this price level, I still believe it's an excellent value for the features you're getting and the accuracy. The Rapsodo MLM, Swing Caddie SC300, and FlightScope mevo will cost you about $150-$200 more. They offer apps and enhanced data features. But for some people, the price point is out of their reach. Or the enhanced features aren't necessary.
On the lower end, the PRGR launch monitor is about $100 less than the SC200 Plus. It offers similar accuracy (perhaps a little better), but lacks a few of the bells and whistles and requires a bit more effort to operate.
Overall, the SC200 Plus remains an excellent option for golfers who are on a budget but still want a few premium features such as a remote control, practice modes, and voice output. I'd consider it one of the best "in-between" options for under $500.
Very Good Accuracy
After testing the Swing Caddie SC200 Plus against my SkyTrak launch monitor, I believe the sensor offers very similar accuracy versus the original SC200. Not much has changed on that front.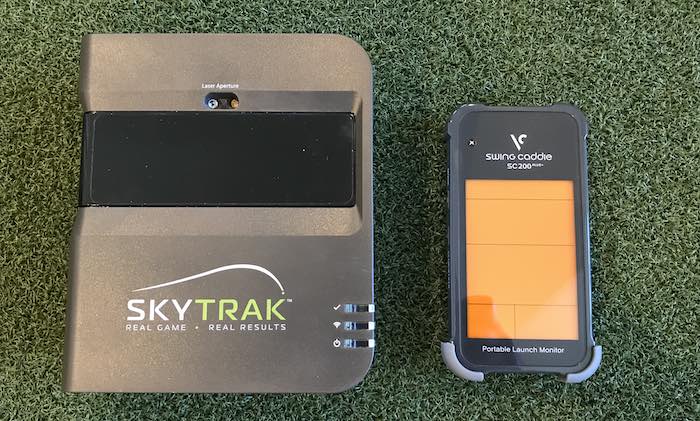 Testing indoors, you can see some of the original data I collected against SkyTrak, which costs about $1700 more:
| Club | SkyTrak Yardage | SC200 Yardage | % Difference |
| --- | --- | --- | --- |
| Pitch Shot (LW) | 53.8 | 55.6 | 3.29 |
| SW | 99 | 102.4 | 3.4 |
| PW | 130.2 | 133.2 | 2.27 |
| 7-iron | 173.6 | 176.8 | 1.87 |
| 3-hybrid | 213 | 209.8 | 1.51 |
| Driver | 249.8 | 255.1 | 2.09 |
The SC200 Plus does pretty well inside if you have about 4-5 feet behind and in front of the ball. It's certainly not perfect (no launch monitor is), but it will give you very good estimates of your swing speed, ball speed, and carry distances.
Since Swing Caddie is using a radar sensor, you can expect it to perform better outdoors when it has room to see the ball travel. For those who want to add a little more data to their range sessions, it fills that void nicely. Be aware that when using range balls, your distances can be affected, which I wrote about in this article.
Simplicity
My favorite part about Swing Caddie launch monitors is its simplicity. All you have to do is turn the SC200 Plus on, allow a quick barometric pressure calibration to occur, and you are ready to go.
The most important feature for accuracy is adjusting the loft of the club you are hitting. The SC200 Plus comes with a remote, which allows you to make those changes with the touch of a button. Also, it will call out your shot distances shortly after it reads your ball flight.
There are four modes you can choose from.
Practice: Displays shot distance, swing speed, ball speed, smash factor, as well as time played and total shot count.
Target: You select a distance and hit ten shots, and then you are given a score out of 10 after each shot.
Approach: Random distances are selected for you, and you are given a score out of 10 after each shot.
Swing Speed: Capture swing speed without hitting a ball
The SC200 Plus will also store your shot data for each club. Over time you can see your average carry distances and clubhead speeds for various clubs in your bag.
Swing Speed Mode
The only difference between the original SC200 and the SC200 Plus is the swing speed mode. You can now take practice swings without hitting the ball, and it will display your swing speed. For some, this feature might not be a big deal or even interest them at all.
However, with the rising popularity of swing-speed training, I think the swing speed mode is a very nice addition. One of my top recommendations for golfers who are looking to increase swing speed is to use the SuperSpeed Golf Overspeed training system. One of the fundamental parts of that training is using a swing radar to track your swing speed when using their training clubs (you are not hitting balls). The SC200 Plus can be a worthwhile companion with that product because you can now benchmark your swing speeds, and see if you are making any gains.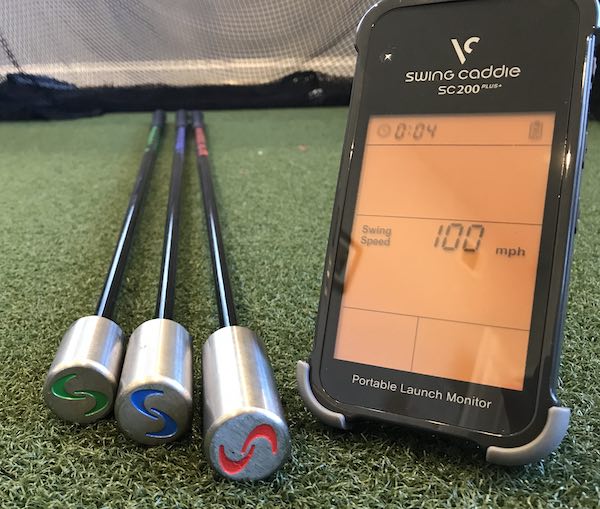 Aside from that, I don't think many golfers might find value swinging their clubs without hitting a ball. Either way, this new feature does not come at an extra cost.
How I Would Use the SC200 Plus
For most golfers, I believe a personal launch monitor can be a great practice tool if they use it properly. My primary recommendation is to use products like the SC200 Plus to hone in on your wedge distances. Many golfers struggle with shots between 25-100 yards, and you'll see excellent accuracy since it's easier for any launch monitor to record shots at closer distances. I've seen tremendous results in my own game, and quite honestly, it could be worth the price of admission for that functionality alone in terms of its impact on your golf game.
With the SC200 Plus, you can use a mixture of target mode and approach mode. You can first dial in distances between 50-100 yards and get your feel for each shot. Then you can test yourself with random yardage selections to see how well your body is remembering those distances.
Also, if you do want to pursue swing speed training with a product like SuperSpeed Golf, the new swing speed feature is a great companion.
Last but not least you can also use the SC200 Plus to get reasonably accurate data on carry distances for each club in your bag. This is a way to add a bit more structure to your practice sessions, especially if you are hitting into a net without any other kind of feedback.
Wrapping It Up: Still a Great Value
Overall, the SC200 Plus is not a huge change from its predecessor, and that's a good thing. If it ain't broke, don't fix it! For under $300, you can get reasonably accurate feedback on your club distances, ball speed, and swing speed. The added swing speed practice mode is a great tool for those working on increasing their speed.
When looking at the rest of the personal launch monitor category, I still believe it fits in for golfers who are on a budget but do want a wide variety of features.
You can purchase the SC200 Plus for $289 using this link, which is the lowest price you will find online.
The post Swing Caddie SC200 Plus Launch Monitor Review: Still a Great Value With New Features appeared first on Practical Golf.