For the fifth year in a row, I attended the PGA Merchandise Show in Orlando. Usually, I don't do show recaps because I prefer to do more in-depth articles on products that I think are relevant to Practical Golf readers. But for whatever reason, I felt compelled to do a writeup this year.
There are thousands of products on the show floor every year; it's a bit overwhelming, and I can't get to all of them. However, I thought there were a few important releases and trends you should know about.
As usual, there are some great products and others that make me scratch my head.
Personal Launch Monitors Continue to Blow Up
One category that I have paid close attention to over the last few years are personal launch monitors. There are now tons of options available for roughly $200 to $2000. Every day I receive emails and messages on social media about these products. I'll summarize some of my key takeaways:
FlightScope Mevo + Introduced
FlightScope introduced the Mevo +, which is a major upgrade over the initial Mevo (which I reviewed here). Priced at $1999, it is now a direct competitor to SkyTrak since it offers premium simulation options. I think they have their work cut out for them since SkyTrak has had a stranglehold on this category for years now.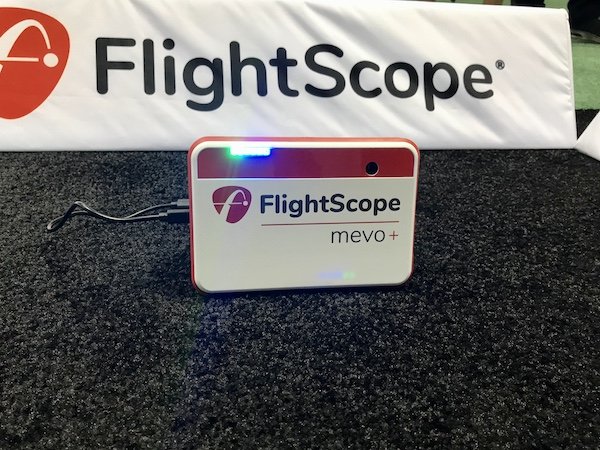 I am hopefully going to get my hands on a unit soon to give it a thorough test. One thing to be aware of is that it will require roughly eight feet in front of and behind the ball when used indoors, according to their team, since it uses radar technology. For golfers who have limited space at home, and want to build a makeshift simulator (similar to my setup), this could potentially be a sticking point. I'll reserve my final judgment until I can test.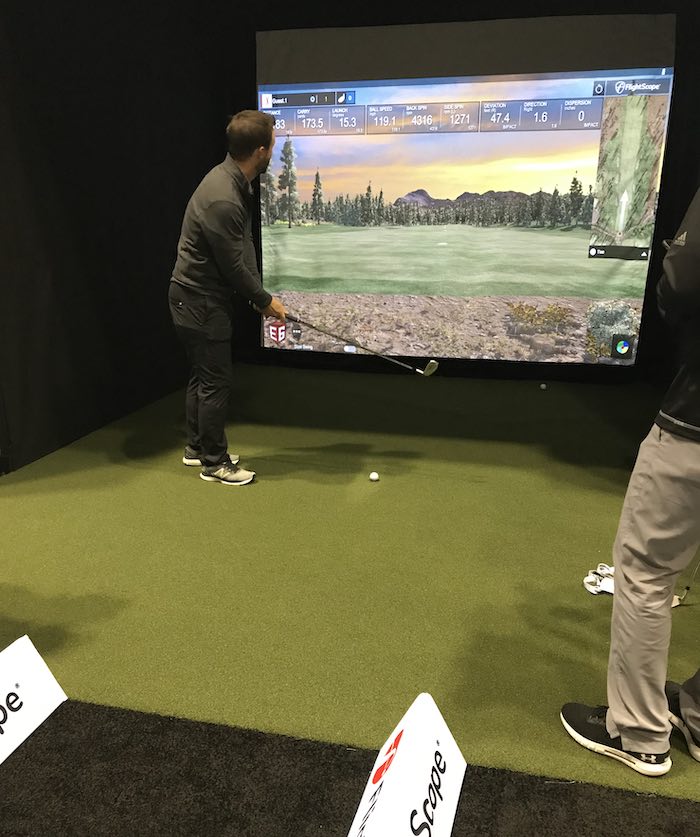 If your primary use will be outdoors, there are a few things to be excited about. The FlightScope team told me the larger sensor will measure the ball's entire flight and there will no longer be a need for metallic stickers. Additionally, the app demo I saw was very impressive.
Swing Caddie SC200 Replaced by SC200 Plus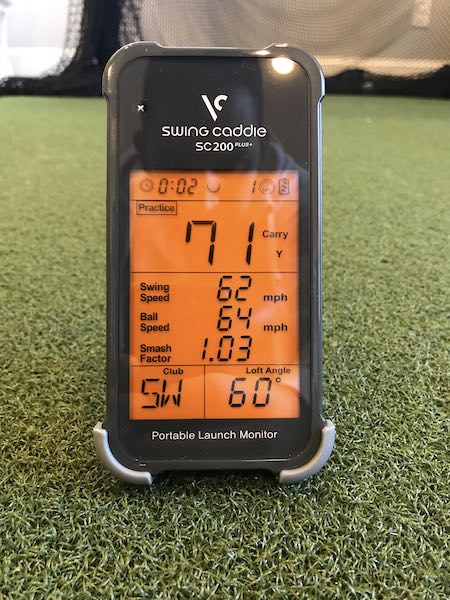 Swing Caddie discontinued the SC200 and replaced it with the SC200 Plus. For years, the SC200 has been the top-selling personal launch monitor in the entire industry. So I was a little sad to see it go since it offered a great value proposition. The SC200 Plus doesn't change much, except it now provides a swing speed mode, which allows you to track your swing speed without hitting a ball. This could be a nice addition for golfers who are doing Overspeed training with SuperSpeed Golf or any other fitness regimen. Before the show, I got a chance to test out the SC200 Plus at home, and you can read my review here.
Rapsodo MLM Gets a lot of Buzz
Late last year, the folks at Rapsodo (who make the hardware for SkyTrak) introduced their MLM launch monitor. If you read my review, I liked its accuracy and app, but I wanted to see a little more functionality and didn't love that you can't use it indoors.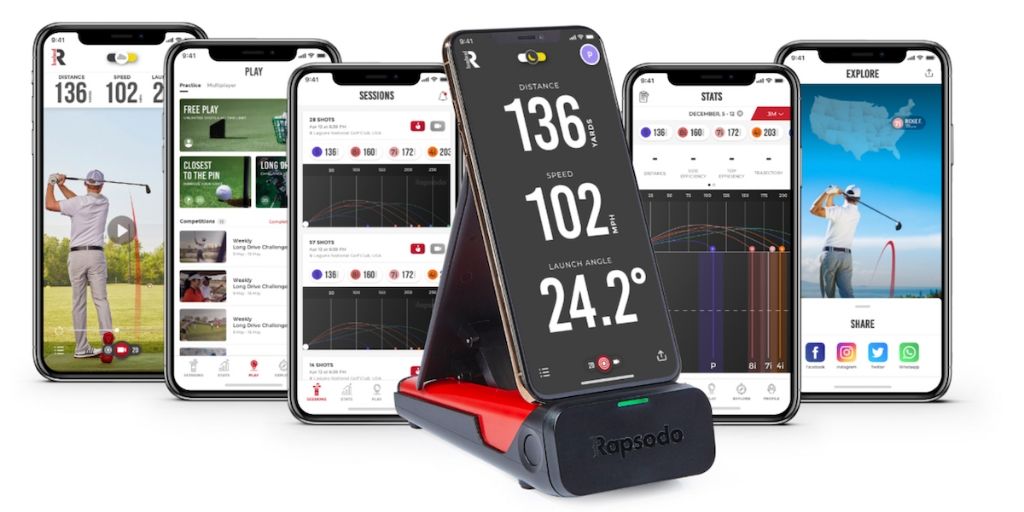 Their booth was packed the entire show, and the team told me about some major updates coming soon to the app. Stay tuned; my lips are unfortunately sealed!
The Little Launch Monitor That Could
Another late release of 2019 was the PRGR Launch monitor. Technically, it's not a new unit since its been available in the Japanese market for several years already. While it doesn't look particularly impressive, I was blown away by its accuracy in my initial review. At a price tag below $200, I'm told they have been selling thousands of units since the late fall. Additionally, after some testing of my own, I also found out that it's quite accurate at measuring swing speed without hitting a ball.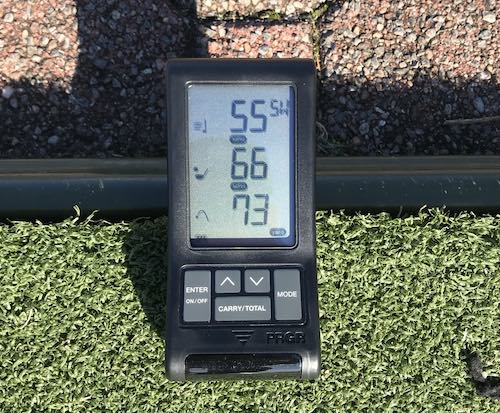 For the budget-conscious golfer who wants an entry-level launch monitor, and doesn't mind the basic functionality, I think this could be a sleeper product for 2020.
Some Other Gadgets
I know many of you are interested in some of the new gadgets out there, and I noticed a couple of interesting releases that may or may not grab your attention.
Garmin Approach S62
The Garmin S60 had quite a run as the best premium golf GPS watch over the last few years. It was inevitable that Garmin would release some upgrade, and they did at the PGA Show with the S62. The new watch will have shot-tracking capabilities, a larger display, a virtual caddie (I'm a little suspect on this feature), and some other smartwatch capabilities such as heart rate and fitness tracking.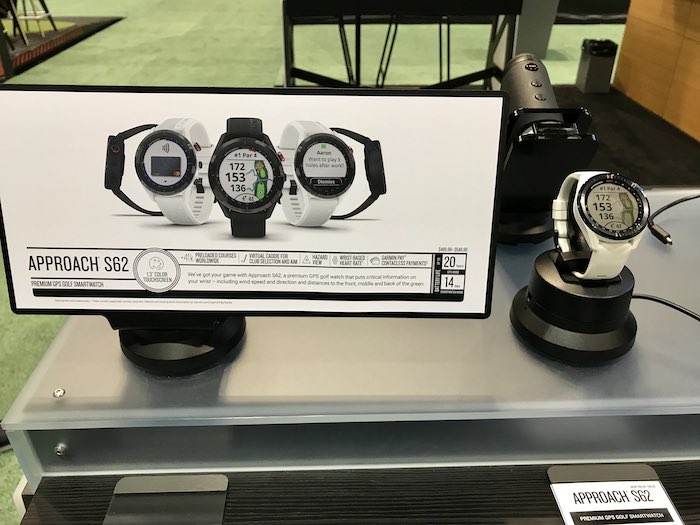 As you can expect, it will garner a big price tag of $499. I will test this out on the course to see if the added features are worth the extra money. The Approach S60 will still be available at a lower price, but I still believe the Voice Caddie G1 is an excellent value in the premium GPS watch category.
SkyCaddie LX5
SkyCaddie also announced a significant upgrade to its watch line with the LX5 GPS. It offers many of the features of the SX500 handheld GPS (which I loved) but in a smaller form.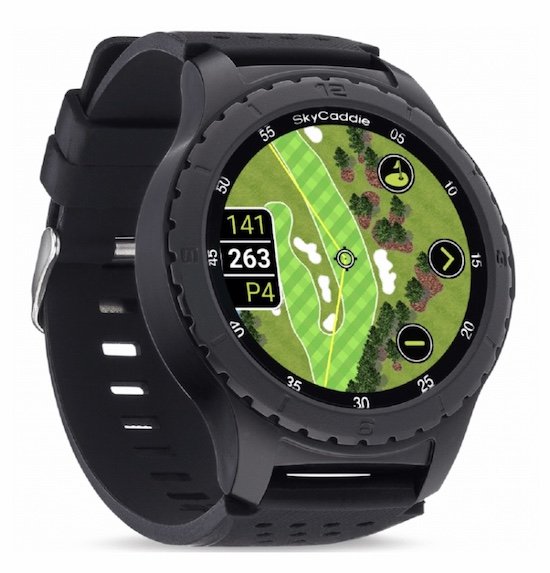 SkyCaddie is known for offering more in-depth data on courses, but it comes at a cost. They are one of the only GPS providers that require an ongoing subscription. I'll be testing out this one soon as well to give you my thoughts.
Bushnell Wingman
Bushnell is typically known for its rangefinders, but another product that caught my eye is their Wingman speaker. Music on the golf course is becoming a big thing, and there are plenty of Bluetooth speakers currently on the market. I don't play any tunes on the course, but I know a lot of you are doing it.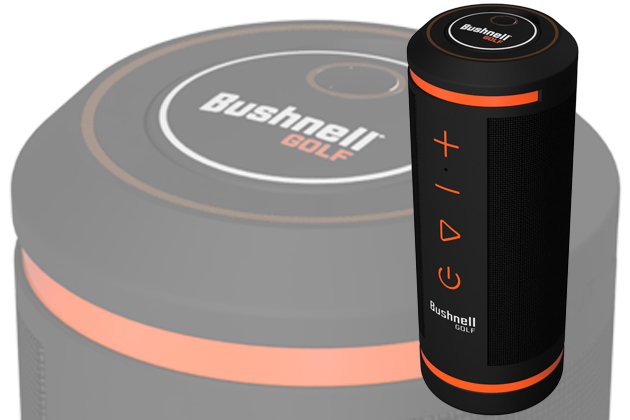 The Wingman seems to have a collection of features that make it unique. It offers Bluetooth premium sound, 10 hours of battery life, and a magnetic mount for carts. Another interesting feature is that it also has GPS capabilities that integrate with the Bushnell app. So you'll be able to get your distances to the front, center, and back of the green as well (you can press the button on its remote and it will call them out to you).
Either way, this looks like a product that's tapping into the fun category of golf while also giving golfers a few other unique benefits – and it will be priced competitively at $149.
Shot-Tracking System Gets Hardware Upgrade
One of the major shot-tracking companies showed me a significant hardware upgrade. I believe it will remove the only major objection to using their system, and they've been able to offer the upgraded version at a similar price. Unfortunately, that's all I can say! Look out for an announcement and my test sometime in June.
SuperSpeed Golf Introduces SuperSpeed C
Over the past few years, SuperSpeed Golf has quickly become one of the top-selling training aids in the entire golf industry. Readers of the site know that I have trained with their Overspeed system before. For golfers who want to add speed to their swing the right way, it's one of the few training aids that delivers on its promise.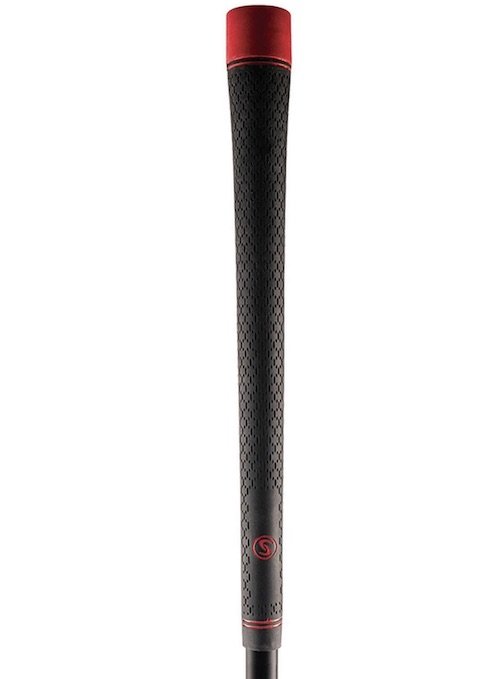 SuperSpeed Golf announced the SuperSpeed C at the show, which is a counterweight trainer. They have a new set of training protocols that focuses on creating more hand and arm speed. Priced at $99, it can be an entry-point product into their system or an add-on to golfers who are currently training with their traditional set.
I started my training protocol last night with the SuperSpeed C, so I'll give you all my thoughts when I've had a chance to see the results.
Boutique Companies Making an Impact
One of my favorite parts of being in the golf industry is interacting with all of the fledgling brands who are having success. Whether it's custom headcovers, practice aids, apparel, or shoes – there are so many great stories of entrepreneurship. While the behemoths of the industry can outspend them on marketing, I've found that many of these smaller- to medium-sized companies are offering superior products.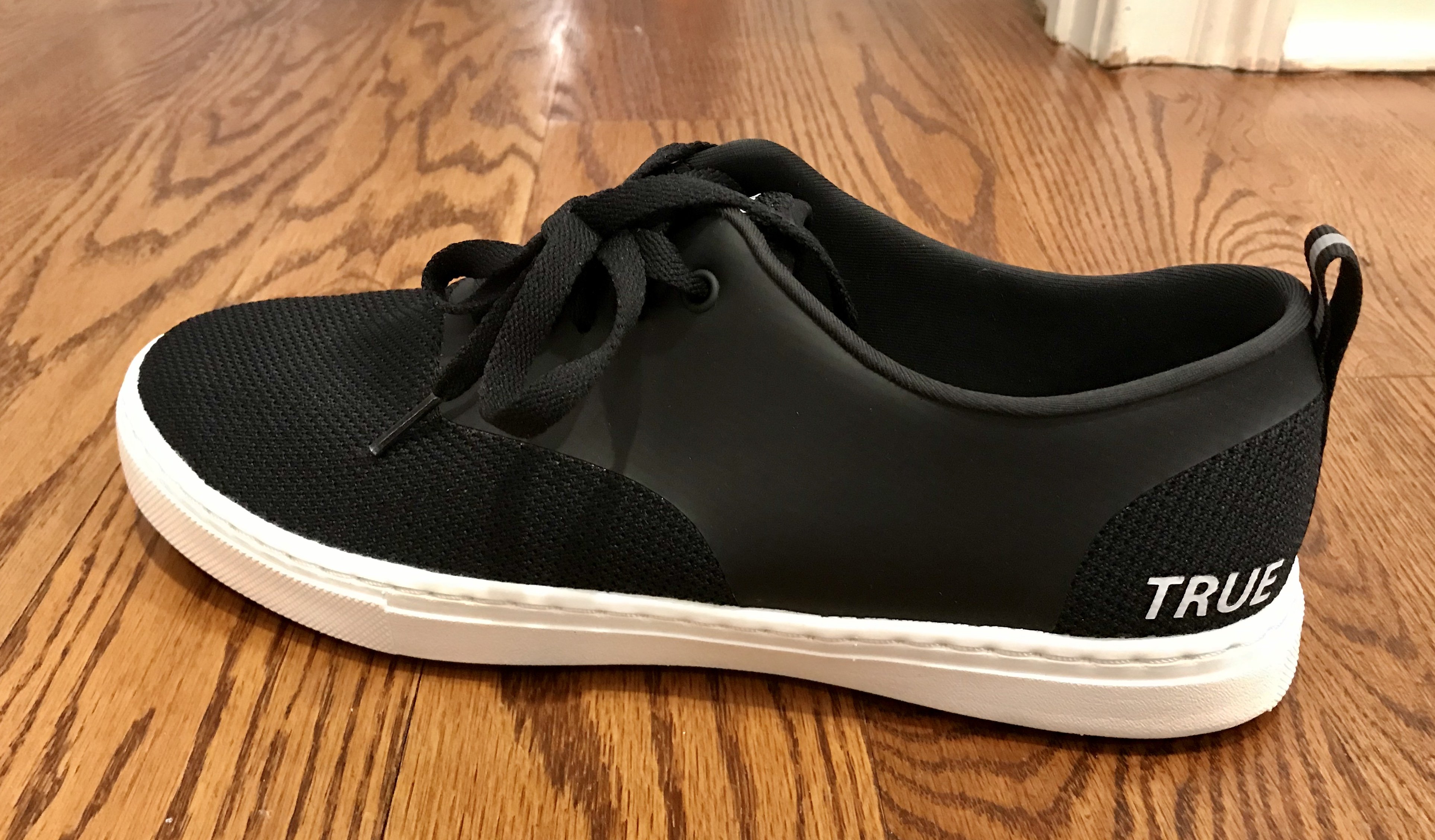 I got a chance to see what's new from some of the companies I've covered in the past, such as TRUE Linkswear, Swannies, Redvanly, Linksoul, PuttOut, and many others.
One fun product I saw was the Perfect Practice putting mat. A younger guy fresh out of college was sick of all of the cheap putting mats on Amazon, so he worked for almost two years perfecting his own design. He badgered touring professionals from around the world on social media to try it out, and now he's got testimonials from some big names and his business is exploding.
There are plenty of other stories like this on the show floor, and it's great to see.
Health & Wellness
One of my big takeaways from the show is that health and wellness are becoming more of a priority amongst golf companies. Mostly, this is a great thing. Fitness and health are extremely important to me and it's never too late for anyone to start working out and taking care of their body. At 36, I've made it more of a priority to keep my golf game (hopefully) pain-free and enhance my overall health.
Orange Whip, whose swing trainer is one of my favorite products in the entire industry, was mostly focused on their Golf Fitness X platform at their booth.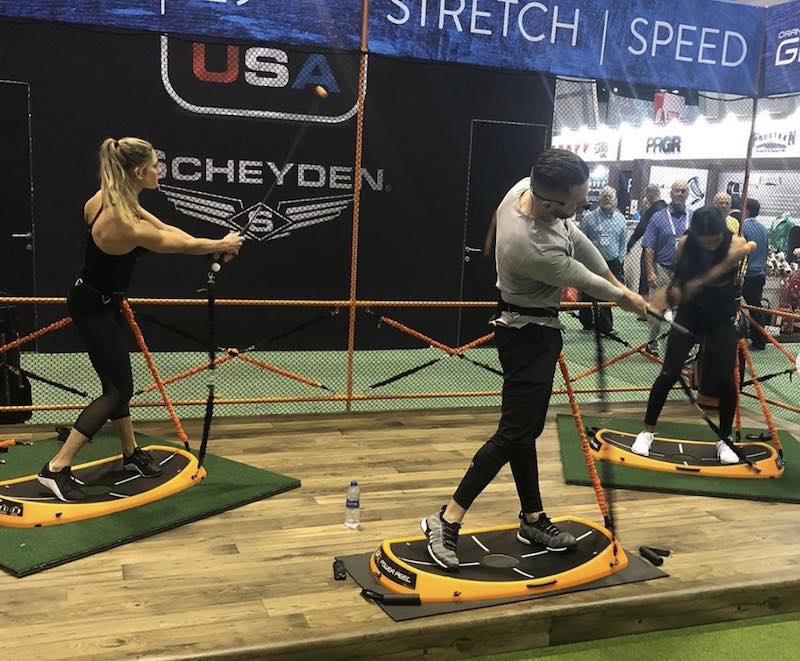 On the flip side, CBD was EVERYWHERE. In 2019 I counted only two companies at the show – and by my guess, there were 20-30 brands this year. They quickly took over the show floor with some of the most prominent booths. If you follow me on Twitter, you probably saw a barrage of sarcastic tweets about them.
The most overheard line at the PGA Show…

"Let me explain how our proprietary blend of CBD is different" pic.twitter.com/r4ZSv7zGFg

— Jon Sherman (@practicalgolf) January 24, 2020
To be entirely transparent, it felt like a cash grab. I could overhear each company talking about what made their blend different than the competition. Some booths had doctors on hand to give the impression of more legitimacy. There was CBD for pets, even CBD from a putter grip company. My bullshit detector was flashing red. You won't see me reviewing any CBD products any time soon. I would look towards any legitimate clinical trials for guidance. Most people I spoke to who have tried it out had a similar response, "I think it did something, but I'm not entirely sure."

Harvard Health warned, "without sufficient high-quality evidence in human studies we can't pinpoint effective doses, and because CBD is currently is mostly available as an unregulated supplement, it's difficult to know exactly what you are getting." Nature Magazine also called into question the lack of sufficient trials, "unfortunately, if studies such as these are not done — or not done properly — then consumers will be left to fend for themselves in a poorly monitored marketplace. In that scenario, the signal of true clinical benefit would almost certainly be drowned out by the noise from personal anecdotes and the placebo effect, which could jeopardize the future of a potentially valuable medicine."
Buyer beware!
Lastly, there were tons of massage guns and similar products on the floor. It seemed that everyone was trying to knock off Theragun. While this isn't my wheelhouse, I did try a vibrating massage ball last month for a stiff neck and it seemed to provide relief. Perhaps a little more tangible benefit than CBD.
Big Equipment Doing Its Thing
Not surprisingly, the largest and most prominent booths were from companies like Callaway, Titleist, and Ping (as usual). TaylorMade was absent again because they're likely sick of paying millions of dollars for the sake of appearances.
I've spent a lot of time learning about club fitting and what makes golf clubs different from one another. Don't get me wrong, all of these companies are making fantastic products because they employ some of the top engineering talents in the world. If anything, there is more opportunity than ever to dial in equipment for your swing.
My advice is always is to look past the marketing hype and test on your own. Work with a qualified clubfitter if you can. Companies like Club Champion are seeing real growth because there is more of a demand for customization. They told me that they have doubled to more than 70 locations, with many more opening in 2020.
You don't need a new driver every 1-2 years. The technology doesn't change that much. However, if you waited 5-6 years, it's possible you could see some very tangible gains. In the past 15 years, I've only had two sets of irons. They don't wear out, and if you get it done right the first time, it's not necessary to keep upgrading. However, your wedges are the only clubs that wear out, so keep an eye on those.
Wrapping It Up
The golf industry is like any other. There are plenty of great people looking to provide real value to their customers. There are also people legitimately trying to do that, but unfortunately failing (think bad training aids). Unfortunately, there are also some people who don't care about you or your golf game – they just want your money.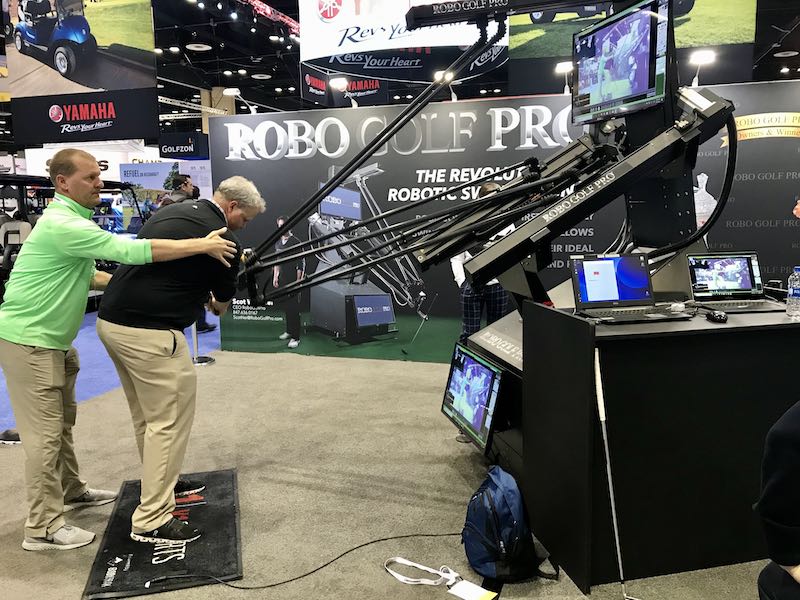 The primary focus of Practical Golf is to help you get better at golf and enjoy yourself more through my "philosophy." However, over the past few years, I have enjoyed the role of being a filter for all of you when it comes to certain product categories. I try to sift through the garbage and tell you about the good stuff. You can make your decisions from there.
While there isn't too much new under the sun in the golf industry, each year there seems to be mild progress in product features, and luckily certain technologies are making some products more affordable (except those $499 drivers). I'm not sure when I'll write another recap of the show, but hopefully, you enjoyed this one.
The post PGA Show Recap: The Good, the Bad and the CBD appeared first on Practical Golf.