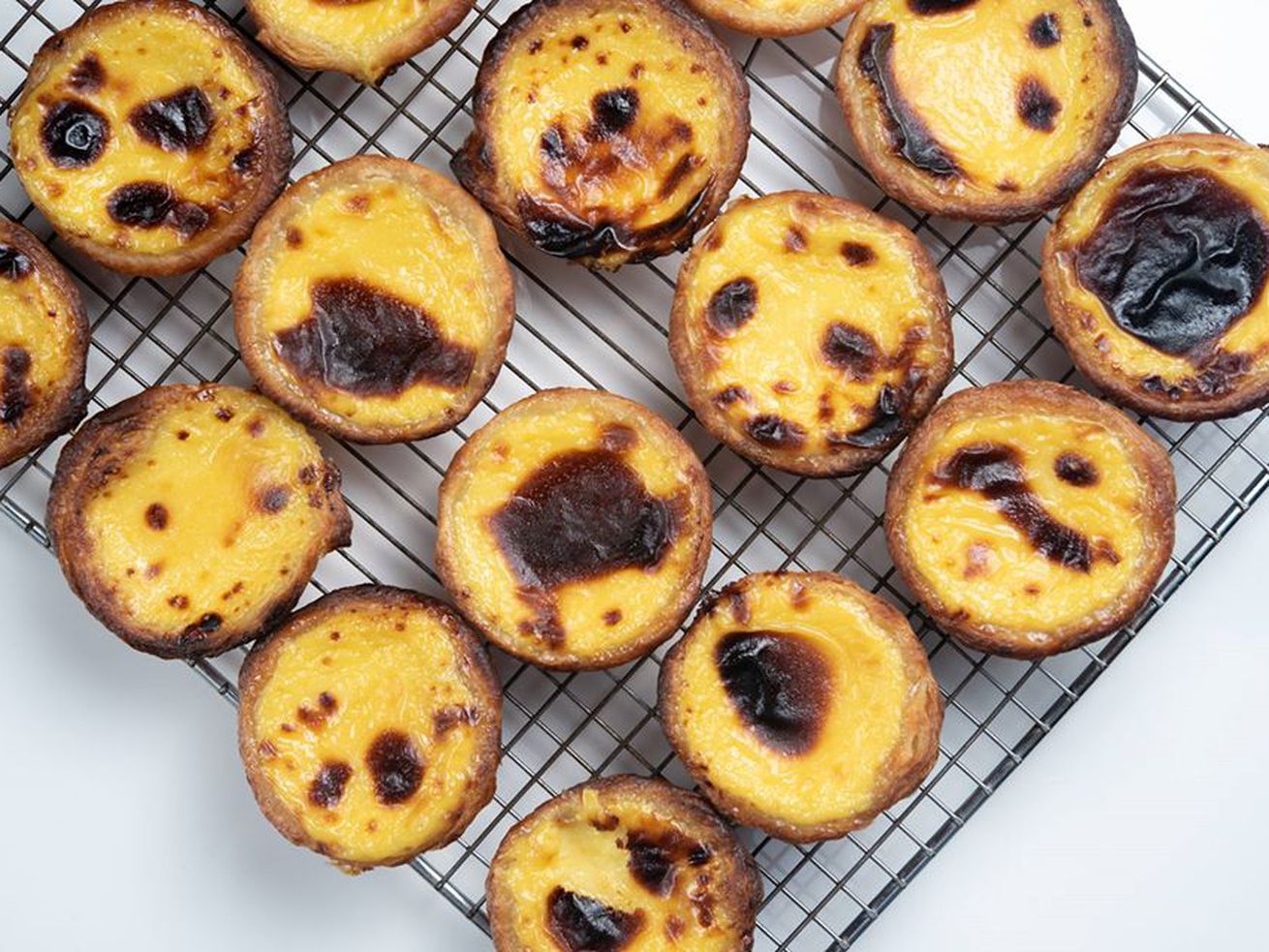 Pastéis de Nata at Aldea | Aldea/Facebook
From the Editor: Everything you missed in food news last week
This post originally appeared on February 22, 2020 in Amanda Kludt's newsletter "From the Editor," a roundup of the most vital news and stories in the food world each week. Read the archives and subscribe now.
---
Tonight, a New York restaurant that I've long loved, Aldea, is closing after 10 years in business. Aldea holds a special place in my heart, because I've been able to cover its lifespan from the very beginning (when it took owner George Mendes two years to open) and through its ups and downs. But mostly I just really enjoy Mendes's cooking. So, I'm very much looking forward to having a last duck rice and egg tart tonight during the restaurant's final dinner service.
I called Mendes last week to learn about what this closure means for him and what it could say about the restaurant scene at large for an operator of a one-off, high-end spot. A condensed version of our convo follows — or scroll down for the usual links roundup.
---
Amanda Kludt: Are you just tired of running the business or does it speak to a broader trend?
George Mendes: It's a little bit of both of those things. The biggest thing is I've been wanting to take a step back and re-evaluate. We've had 10 years in this space with Portuguese cuisine and putting it on the map, taking family recipes and putting a modern twist on that. It gave me a voice and an opportunity and launched my career.
But the landscape has changed; consumers have changed. Apps have had an impact on how people are dining now. And I want to go through a phase of reinventing myself. I love other cuisines. I loved the menus I've done at Aldea with the cuisines of former Portuguese colonies like Brazil and South Africa and Macau. It's time to hit the reset button.
Are there other contributing factors?
The past year and half I hit a wall creatively. Being the chef-owner of a restaurant, that model of having to do everything begins to take its toll. I love that role and I have it embedded in my skin. I love thinking about the music and the flowers and the lighting. But I've dug myself a little hole in a way. I want to take a step back and see what will fuel me.
Another big driving thing is I'm starting a family and I'm looking forward to being a dad. It's driving me to make moves where I can create a life balance with my family but also still fulfill my desire to cook.
So would you rather work for someone else than be the chef-owner next time around?
I want to build myself a team where I trust individuals to handle those responsibilities. More and more, I'd like to focus on cooking.
Any big lessons from the last decade running Aldea and, for a time, Lupulo?
When I look back at 2009, 2010, 2011, it was really exciting because I didn't have a name for myself. I had to build it from scratch. The restaurant was well received, and then I started pushing the tasting menu and having people dining for longer hours.
In 2013 and 2014 I started to see some pushback when I made it a prix fixe restaurant. When we went tasting menu-only, there was a lot of protest. People wanted an a la carte menu. They want to choose. They don't want to commit to three hours at the table. I struggled with it. I wanted to cook what I wanted to cook. But when I didn't give the consumers a choice, business declined. And I learned. I went right back to a la carte and tasting menus.
Opening Lupulo and stepping away for a second was also great, because I was able to come back to Aldea and see this is where I felt most at home. Lupulo was the wrong restaurant in the wrong place. But whether it's called Lupulo or another name, I want to do that [kind of restaurant] again. I think there's room for that down-home rustic Iberian cooking.
Are tasting menus over?
I think there's always a place for a tasting menu. My desire is in a smaller operation. I love the Japanese concept of a 14- to 16-seat restaurant or counter or a couple of tables. It's manageable. That's what inspired Aldea at first. It was the chef's counter and two tables. And my investors said we needed to be 68 seats. It had to be this monster. Here we are 10 years later. I don't regret it, but if i do fine dining again, it'll be much smaller.
Is having just one restaurant a tenable business these days?
There's a model for one spot if it works. But we're in this business where the risks are very high.
You just have to hit the right note. There are a lot of busy restaurants that are individual. On the flip side, when I see David Chang and Alex Stupak, they built these empires and they built a model where the cost of the fine dining can be fed by the higher-volume restaurants.
I don't know what the future holds for me, but if Aldea is born again, it'll be one Aldea, but I could see something additional rolling out on the casual side. We are all entertained by the fast-casual model.
Aldea closes to the public tonight. Mendes hints that fans of his egg tarts won't have to wait too long to try them again.
---
On Eater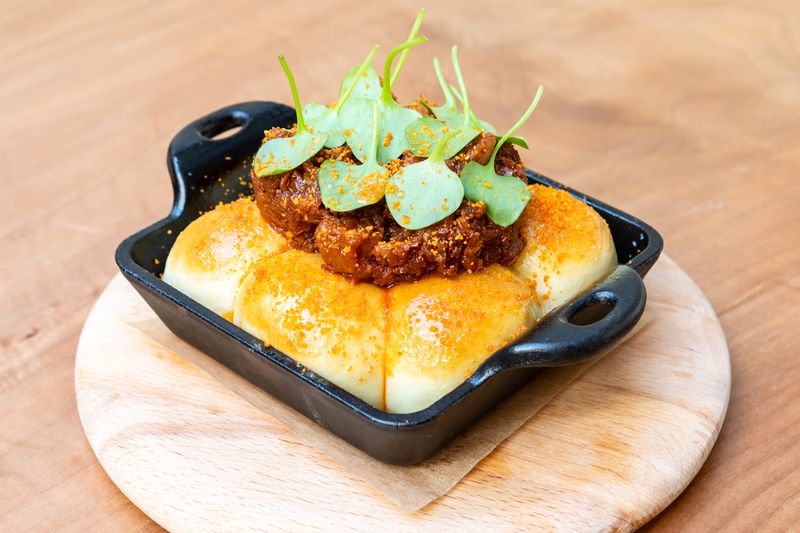 ---
This Week on the Podcast
This week on Eater's Digest, we talk to Camilla Marcus, owner of New York restaurant West-bourne, about how she managed to offer free and flexible childcare to all of her restaurant employees and why it's such a big deal for both retention and building a real middle-class.
---
Off Eater
A-frame, minimalist cabins now, A-frame, minimalist cabins forever. [Curbed]
Everything you need to know about venture capital, private equity, and how we got to the weird, frothy world we live in now. [The New Yorker]
Love this Planet Money episode about how better restaurant design can lead to more profit. [NPR]
The shrinking quality gap between high-end organic grocers and mass corporate grocery stores is putting the former out of business, says Adam Erace, the Philly food writer who just shuttered his indie store. [Heated]
Nick Kokonas wants his reservations platform Tock to be the Spotify or Netflix for restaurants, offering you suggestions based on your preferences and habits. [Tech Crunch]
How to reduce your food's carbon footprint, in two charts. [Vox.com]