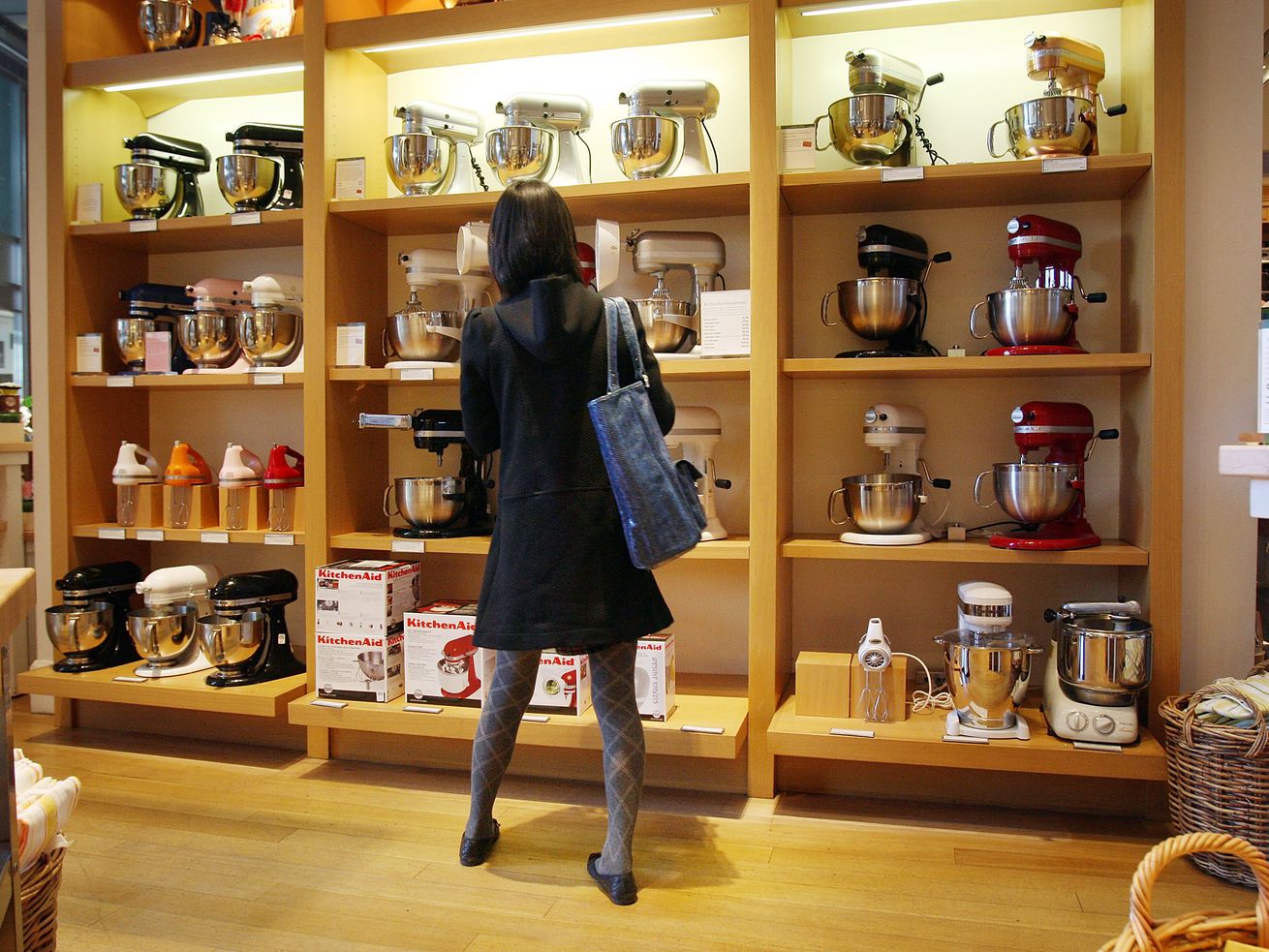 The KitchenAid stand mixer has been a home kitchen staple for a century. | Getty Images
The much loved kitchen essential has remained a powerful symbol of domesticity for a century
The KitchenAid stand mixer is a countertop staple for any home baker worth their salt and a colorful kitchen showpiece for plenty who aren't. With a price tag that runs between $199 and $1,000 for certain limited-edition versions, this multi-attachment appliance can whip, knead, chop, juice, spiralize, and even make pasta. A standard wedding gift since the mid-20th century, it's become a milestone purchase even for those who have never kneaded dough or whipped meringue in their lives.
Where it came from:
The stand mixer was invented in the early 1910s by Herbert Johnson, an engineer at Hobart Manufacturing Company, after he observed a baker laboring over mixing dough. Determined to simplify the process, Johnson's solution was the Hobart Model-H, an 80-quart industrial mixer that was introduced in 1914.
While the U.S. Navy was an early client, Johnson and the executives at Hobart had their sights on a wider client base and set about creating a smaller, in-home version of the tool. As the story goes, Hobart executives brought prototypes home for their wives to test out, and one of them exclaimed, "I don't care what you call it, but it's the best kitchen aid I've ever used." Thus, the brand name was born. The H-5 KitchenAid, Hobart's first in-home model, was introduced in 1919. This five-quart mixer weighed 65 pounds and cost $189 (or around $2,777 in today's dollars).
Explaining its iconic status:
Celebrating its 101st anniversary this year, the KitchenAid stand mixer is so widely loved that people get its likeness tattooed on their bodies. But it took a few decades for the brand to reach cultural ubiquity, let alone cult status. The earliest models were popular in their own way; the Model G, a slightly smaller version than the H-5 that was released in 1927, sold 20,000 units in three years and enjoyed moderate success among affluent households thanks to ranks of door-to-door sales women and demonstration dinner parties (precursors to today's Instagram stories and YouTube demos). For housewives in the '20s and '30s, the appliance represented speed, modernity, and perhaps a little freedom from a never-ending list of household chores to take care of.
But the price and sheer heft of the tool were barriers to wider popularity. Though the company developed a series of increasingly smaller, cheaper stand mixers to compete with a much more affordable newcomer, the SunBeam MixMaster, KitchenAid didn't grab hold of the consumer imagination until 1937. That's when the sleek, aesthetically pleasing Model K — the first iteration that today's cooks would recognize as a KitchenAid — was released.
Heavily influenced by the Streamline Moderne design movement, which emphasized horizontal lines and aerodynamic curves, the Model K was designed by renowned industrial artist Egmont Arens. Arens was a former art editor of Vanity Fair and celebrated "humaneer" who advocated for aesthetically pleasing consumer products designed with the needs and wants of the general public in mind. With the Model K, the KitchenAid suddenly looked trendy. (The silhouette, which is patented, remains virtually unchanged more than 80 years later.)
While Arens's modern silhouette was one innovation that won consumers over, another aesthetic decision tapped even deeper into trends and cemented KitchenAid as king of the countertop: the introduction of color finishes in 1955. A first in the stand mixer category, the colors KitchenAid offered (Petal Pink, Sunny Yellow, Satin Chrome, and Island Green) reflected broader industrial design trends of the time, which had made it normal to find baby pink cabinetry in a home kitchen with a coordinating pink refrigerator and oven.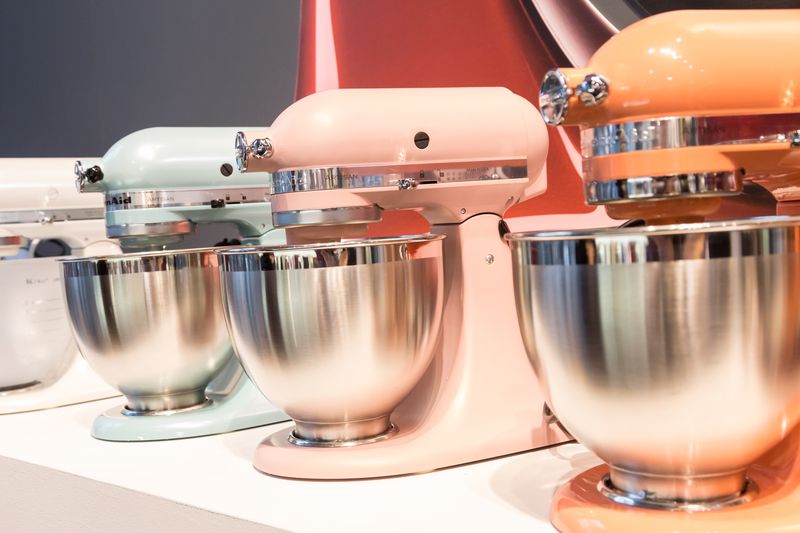 According to Jessica McConnell, senior manager of color, finish, and material studio for KitchenAid, adding color was part of the company's push to turn what had essentially been a commercial product — designed to help professional bakers knead bread — into a home necessity. "They decided to put color on it to make it more palatable and seem more friendly for the home versus really commercial and cold," she says. "The finishes, the color, the shape of the product, are all things that make you want to touch it, display it confidently in your home, and treat it like an accent."
The power of color gripped consumers then and hasn't let up since. Considering several conversations I've had with KitchenAid users, the ability to personalize your kitchen and express yourself with your color choice remains a huge part of KitchenAid's appeal. Most folks mentioned laboring over the color choice and had myriad reasons why they chose the shade they did.
"I had picked a color that, once received, I decided I didn't love," says Mindy Fox, food editor and cookbook author of Salads: Beyond the Bowl, who put the KitchenAid on her wedding registry. "I took it in to exchange it and fell in love with another [pale periwinkle] color that was a limited run, soon-to-be-discontinued option. Every single person that comes into my kitchen goes bananas for and comments on the color of my KitchenAid!"
Rachel Tepper, a New York-based food writer, says she "agonized" over the color of her KitchenAid. "I wound up going with Majestic Yellow, which I figured would go with a lot of different kitchens. I knew I was going to have this baby for a long while."
That longevity is another crucial aspect of the KitchenAid stand mixer's iconic status. McConnell says that most consumers think of their KitchenAid as a 10-15 year investment, and thus pick a color they can live with for at least that amount of time. But the mixers actually last a lot longer than that (especially models made before the '90s, according to some consumers). Every KitchenAid stand mixer released since the Model K works with the modern attachments, a fact often discussed in online forums or fan sites. This stands in stark contrast to more modern products like, say, the iPhone, which are designed to become obsolete or incompatible with accompanying products within a few years of their release.
That longevity also contributes to owners' personal attachment. Like the Le Creuset Dutch oven, the KitchenAid mixer is not just a cooking tool — it's an heirloom. Several interviewees told me that their mixers were passed down from family members (mine was my grandmother's from the 1970s), making it understandable that people form an emotional bond with the gadget.
And with a design that's changed so little, you can recognize a KitchenAid stand mixer anywhere, an essential trait of any icon. "It's just such a beautiful product, and I've always admired them in other peoples' homes," says Tepper. "My mom has one, so many friends have them, and I see them all over food Instagram." They're ubiquitous on cooking shows and in magazines; and in most product reviews of the category, KitchenAid unquestionably reigns supreme for its classic design and superior performance.
Acquiring a KitchenAid stand mixer is like joining a club. It became apparent from the interviews I conducted over email and Facebook that a KitchenAid stand mixer bestows symbolic status on its owner, thanks to the lifestyle it represents. "For many people, it's the most expensive gadget in their entire kitchen," says Tepper, who has written about owning a KitchenAid as a consumer milestone. "But it's also because of what one uses a stand mixer for — it's for more ambitious projects, signaling one's entrance into a new phase of cooking life."
For generations, that "new phase of cooking life" was synonymous with marriage. Like Fox, countless customers I spoke to got their mixers from their wedding registries, and according to the Knot's 2019 study, the KitchenAid stand mixer is the most popular registry item. That may be shifting as traditional wedding registries fall out of favor and millennial shoppers stop waiting for marriage to upgrade their kitchen tools. As Sierra Tishgart, founder of cookware startup Great Jones, told the Atlantic, "I remember thinking, I want nice things, but do I have to wait for that stage of my life? That feels preposterous."
Whether your KitchenAid mixer was gifted to you on your wedding day, passed down by your grandmother, or purchased for yourself in a snub of tradition, it's a tool that carries a surprising amount of emotional weight. It's still a powerful symbol of domesticity, but increasingly a different — and more performative — kind, a candy-colored, Instagram-filtered version in which you can have it all: a happy marriage, enough money to buy a $400 appliance, the motivation to take on baking projects on a Wednesday, the time to mix up a batch of cookies whenever you please.
In reality, you might have none of those things; in fact, you may barely use your mixer at all (even among circles of cooking enthusiasts, I came across plenty of people who said they rarely did, including one woman who said the day prior was the first time she'd used it in five years). But with the unmistakable appliance on your counter, you've definitely got the appearance of such achievements — personal wealth, leisure time, creative ambition, a stable home life. And you've got the distinct possibility of cupcakes… even if you only bake them once every five years.
Vox Media has affiliate partnerships. These do not influence editorial content, though Vox Media may earn commissions for products purchased via affiliate links. For more information, see our ethics policy.